Enrique Bonilla is not a well-known name in American soccer fans circles but Bonilla is well known in Mexico as the President of Mexico's First Division in soccer and he has a thought about the future of soccer in North America.
While Major League Baseball, the National Football League, the National Basketball Association and the National Hockey League continue to export their North American product globally, there is one sports group that does not want to step foot in America.
If a company is under investigation by authorities in the United States and Switzerland for corruption, it probably is not the smartest thing for that company to update its ethics code and remove the word corruption and add defamation to the document.
The National Basketball Association is getting ready for the 2018-2019 season and the schedule includes a pre-season stop in Seattle and a pair of regular season games in Mexico City.
Major League Baseball Commissioner Rob Manfred has expressed an interest in seeing his business add two teams in the future but before that happens, Manfred and his bosses, the 30 owners of Major League Baseball teams have to fix a problem.
It is getting more difficult for owners, sports leagues and sports organizations to get public money to build stadiums or arenas or Olympics venues. The International Olympic Committee keeps getting the door slammed in its face when begging for billions to fund the IOC's every other year sports spectacles.
As the 2018 FIFA World Cup winds down, Tunisia sent out a reminder recently that it is never too early to plan ahead and try to get FIFA to choose you for a World Cup more than a decade away.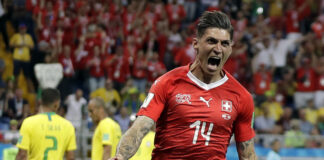 The latest action at the World Cup, from Germany's loss against Mexico to Brazil's draw with Switzerland.
Major League Baseball played some regular season games in Monterey in the late 1990s causing then Colorado Rockies owner Jerry McMorris to enthusiastically push for a franchise in the city that is not far from the Texas-Mexico border.
The 2026 World Cup is coming to North America. United 2026 gave into FIFA's demands. All the North American stadiums that will host the matches must have grass fields.