Home
Tags
Atlanta Falcons
Florida News: Atlanta Falcons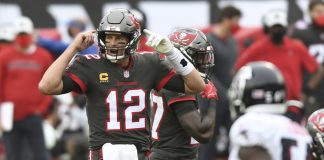 By: Michelle Sabin Sports Talk Florida - Bucs Reporter Tampa Bay's depth on both sides of...
TAMPA, Fla. (AP) — Bruce Arians is not ready to reflect on the challenge of transforming the Tampa Bay Buccaneers into winners.
ATLANTA (AP) — Tom Brady took a knee, then headed toward the Atlanta Falcons sideline to exchange a few words with Matt...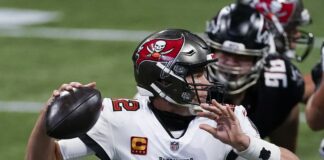 By Michelle Sabin Sports Talk Florida- Bucs Reporter For the third time this season, the Buccaneers...
ATLANTA (AP) — At 43, Tom Brady is on the verge of proving he was the right choice to help Tampa Bay...
Tampa Bay (8-5) at Atlanta (4-9) play today in the first of two meetings over the next three weeks. A great matchup...
In the disjointed football autumn that is 2020, it somehow makes perfect sense that defenders were left celebrating touchdowns by running backs who accidentally...
Warrick Dunn talks to Sports Talk Florida about NFL players contributing to their communities and the Walter Payton NFL Man of the Year Award.
[youtube https://www.youtube.com/watch?v=aNTdoJg5SsU&w=560&h=315] FROM WINNERSANDWHINERS.COM - Week 17 of NFL football continues as the Atlanta Falcons travel to Raymond James...
Tyler Bradley and Timothy Mallard bring you Tampa Bay Sports This Morning! What is there to say about Jameis' first start of the season? Do you think Ryan Fitzpatrick wins that game? Were you disappointed by that bizarre final sequence?