Rolling the dice. https://www.youtube.com/watch?v=3UNSJjwzmKY At one time, the Arena Football League had a following and one of its players Kurt Warner made it big as a...
On today's show, Rock talks the Pro Bowl. Is it the worst all-star game in pro sports? What should the NFL do to fix it? Plus, Rock talks Keith "One Time" Thurman Jr., NHL all-star game, and much more!
With Mayweather watching from ringside, Pacquiao showed flashes of his old speed in winning a unanimous 12-round decision over Broner to easily defend his piece of the welterweight title.
Pacquiao and Broner meet in a welterweight contest at the MGM Grand in Las Vegas that could pave the way for a second fight against Floyd Mayweather later this year. But Pacquiao not only needs to beat Broner, but do it in spectacular fashion to get a buzz going for what could be another lucrative fight with Mayweather.
On today's show, Rock talks the Bucs win over the Carolina Panthers. What has gotten into Jameis Winston? Can we expect this level of play moving forward? Has Koetter shown that he is still the right man for the job? Plus, Rock talks the college football playoff, the Bad Boy Mowers Gasparilla Bowl, and much more!
Did you see that three out of four Oakland residents are supporting the Oakland A's ownership's efforts to build a new baseball park somewhere in the city?
On today's episode, Rock brings you the latest from One Buc Place and discusses interim DC Mark Duffner's press conference. Rock also talks about last nights wild NLCS game 4 and the 'dirty' play by Manny Machado that cleared the benches.
Boxing, which has been a Summer Olympics mainstay since the 1904 St. Louis event, with the exception of the 1912 Stockholm Summer Games because Sweden had outlawed boxing, may be on the Olympics ropes.
It's America's 242th birthday and there is a big question about the Major League Baseball industry. Why has in park attendance dropped to its lowest level in 15 years?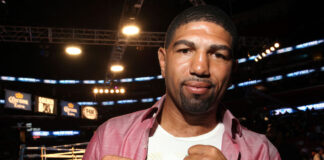 Boxing Hall of Famer Winky Wright joined the Rock Riley Show on Wednesday to discuss his stellar boxing career, Tampa Bay's boxing scene, and the sports world in general.