Florida News: Mexico City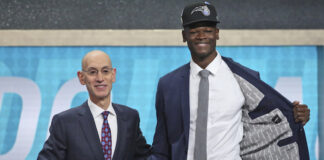 Going global. https://www.youtube.com/watch?v=MGnVq_98erQ While the National Basketball Association daily story seems to have drifted into soap opera land whether it is a storyline about LeBron James...
London and Mexico City are old stops. https://www.youtube.com/watch?v=eHrk1dEbXqI&t=6s The National Football League has big plans to get its product, games, into China's marketplace. But the league...
It is not happening anytime soon. https://www.youtube.com/watch?v=Bv7SLdkXyVw&t=7s Someone in St. Louis wants a National Basketball Association team. That someone is a billionaire named Richard Chaifetz. But...
Euros speak. https://www.youtube.com/watch?v=ZtlC82Dfrp4&t=5s The National Basketball Association is trying to figure out its international stops for the 2019-2020 season. London has been part of an international...
I want money. https://www.youtube.com/watch?v=KP1NmpJCfbQ The National Basketball Association wants to schedule more games outside of the United States and Canada. The league has played its 2018-19...
The National Basketball Association's two game Mexico sample is on tap and the league continues to figure out what sort of future it has in Mexico City and in Mexico. Could the NBA eventually set up shop and place an expansion or relocation franchise in the Mexican capital? 
Major League Baseball is not adding two teams to the existing business anytime soon. There is no indication that four stadium challenged franchises, Arizona, Anaheim, Oakland and Tampa Bay, will be leaving their local markets anytime soon either.
The National Football League won't be staging its annual game in Mexico City because of poor field conditions at the stadium. If the NFL does return to Mexico City in 2019, the NFL may not be the only football league that will showcase its product in Mexico.
Major League Baseball is in the middle of its All Star tour of Japan. Recently, National Hockey League Commissioner Gary Bettman said the league has plans to stage 2019 pre-season games in Germany and Switzerland with regular season games in Prague, the Czech Republic and Stockholm, Sweden.
The National Football League is not holding a game in London this weekend nor is the league playing a game in Mexico City this Sunday or Monday. But NFL Commissioner Roger Goodell, the 31 owners and the Green Bay Packers Board of Directors continue to look at London as an international savior and a gateway to establishing the sport somewhere other than North America.