All you need is cash. https://www.youtube.com/watch?v=hmp24qz916w Suppose you are a politician and you have a National Football League franchise within your district, city, or state and...
It is weekend four of the National Football League season and it appears that National Football League owners do not have financial difficulties despite an erosion in television ratings, a drop in attendance although that can be pinned on the move of the Spanos family Chargers franchise from San Diego to Los Angeles and the constant talk of national anthem protests.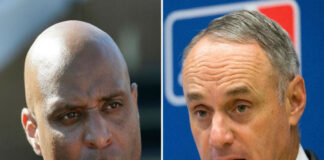 Is baseball sending aid to Puerto Rico? https://www.youtube.com/watch?v=fdzzfVP5eBU&t=6s It appears that Major League Baseball is going ahead with a two game series featuring Minnesota and Cleveland on...
It is the NBA's Christmas Party. https://www.youtube.com/watch?v=aXUHJnLcueY Christmas Day has become the annual National Basketball Association coming out party and this Christmas Day, the NBA is...
Back to the grind for LeBron James and every other player in the NBA. https://www.youtube.com/watch?v=GYql95Dtrog&feature=youtu.be The National Basketball Association season opens and the league is attempting...