Still no European Division for North American Leagues. https://www.youtube.com/watch?v=UlYDij5Egro National Hockey League...
National Hockey League Deputy Commissioner Bill Daly envisions the day that the league will have a European Division. But it make take a while to see that happening because the NHL would need at least four teams playing in state of the art hockey arenas and Europe has been slow in building those types of buildings.
That Vladimir Putin must be quite the charmer. The Russian President is back in the good graces of the head of soccer's governing body, FIFA, and the President of the International Olympic Committee.
The governing body of global soccer, FIFA is meeting in Hungary with just one pressing topic on the group's agenda. Have the United 2026 and Morocco 2026 World Cup bids progressed enough that the two bids can be considered on June 13 and that FIFA can award the 2026 World Cup on that date in a meeting in Moscow, Russia.
In Donald Trump's world, it would seem that the governing body of soccer's World Cup and the warning that came from officials of FIFA to not lobby countries for votes for the 2026 World Cup is the least of his problems.
whatever happened to that European Division? https://www.youtube.com/watch?v=BLyUhW2aFHo&feature=youtu.be The National Basketball Association's one game trip into London is done. The NBA keeps sending teams to play a...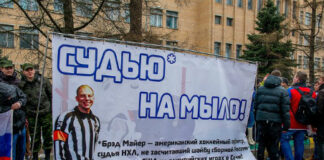 Will the NHL be impacted by the tensions between Washington and Moscow? The sports world is the toy store of life, nothing really too important...