Home
Tags
National Football League
Florida News: National Football League
The National Football League's three game London home stand wraps up with the Philadelphia Eagles and Jacksonville Jaguars game. The National Football League ownership group has a very clear intent in scheduling matches in London.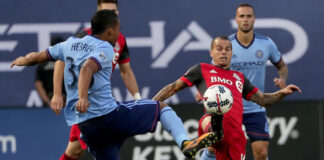 Election Day is coming up soon and there are two stadium proposals on the ballot in San Diego that definitely have the interest of Major League Soccer and perhaps the National Football League.
In the, of course, this could happen department, the Mark Davis owned soon to be Las Vegas Raiders National Football League franchise might not have a home field in 2019. Davis's Oakland lease ends following the last Raiders home game, regular season or playoffs, in December and if there is a playoff run in January.
It is weekend four of the National Football League season and it appears that National Football League owners do not have financial difficulties despite an erosion in television ratings, a drop in attendance although that can be pinned on the move of the Spanos family Chargers franchise from San Diego to Los Angeles and the constant talk of national anthem protests.
In May, the Buffalo Bills ownership had no timetable in the pursuit of either pushing for a new stadium or looking for money for yet another renovation of the team's present home that opened in 1973.
The National Hockey League is finishing the annual promotion of its product in China with a second pre-season game in the country between the Boston Bruins and the Calgary Flames in Beijing.
It's Monday Night and that means another football game and this one features the Seattle Seahawks against the Chicago Bears.
Could there be a battle brewing over football players who are at present unemployed? It seems that way.
For those who missed the news of the world, Jacksonville Jaguars owner Shahid Khan's bid to take over London's Wembley Stadium is still being reviewed by the English Football Association. Khan is willing to spend about $800 million to take over the facility.
It has not been a good launch for the owners of the English Premiership Tottenham Hotspur football team or the National Football League's new London stadium.