Home
Tags
National League
Florida News: National League
An exhibition. https://www.youtube.com/watch?v=DQK-eTQWybI The Major League Baseball All Star Game started off as a...
In retrospect, the 1969 expansion was a failure. https://www.youtube.com/watch?v=9p6mePeCUeI It appears that...
It is a money maker. https://www.youtube.com/watch?v=O5dHLpv8KCY National Football League players will soon be starring...
Not every President of the United States leaves a sports legacy. But John F. Kennedy, who was assassinated on November 22, 1963, did leave one permanent impression on the sports world. He created a massive revenue stream for sports owners from television by signing The Sports Broadcast Act of 1961.
The Major League Baseball All Star Game started off as a gimmick and remains a gimmick 85 years after the first game was played in Chicago. Neither American nor National League owners ever thought about pitting their stars against one another in the previous 30 years that the American League claimed major league status.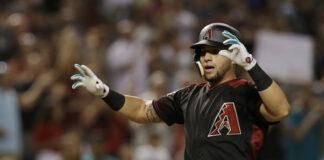 Paul Goldschmidt and David Peralta homered, Zack Greinke pitched into the seventh inning and the Arizona Diamondbacks beat the Miami Marlins 6-2 on Saturday night.
A few more starts like this and Caleb Smith might start getting a lot more attention. The 26-year-old lefty pitched neatly into the seventh inning against a Mets lineup that included newcomer Jose Bautista, leading the Miami Marlins over New York 5-1 on a damp Tuesday night.
Juan Soto, the youngest player in the majors at 19, has hit a three-run homer in his first career start for the Washington Nationals. A day after striking out as a pinch-hitter in his big league debut, Soto connected in the second inning against San Diego on Monday night.
Dansby Swanson's two-run single capped a six-run ninth, and the NL-leading Braves rallied to stun the Miami Marlins 10-9 on Sunday.
Sean Newcomb pitched six strong innings to win his fourth straight start, Johan Camargo and Ozzie Albies each drove in two runs, and the Atlanta Braves beat the Miami Marlins 8-1 on Saturday night.