Home
Tags
Players association
Florida News: players association
Money, that's what I want. https://www.youtube.com/watch?v=v6IjGR6-8eA As attempts to contain the spread...
They are trying. https://www.youtube.com/watch?v=p7zkbYenAhY It is Memorial Day, in days gone by...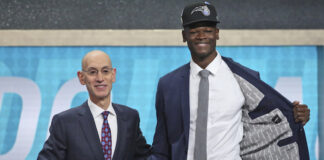 NBA Commissioner Adam Silver has dropped the "let's not allow any players into the league before the age of 20" talking point and is ready to allow extraordinarily talented 18 year old players into the league.
If NBA Commissioner Adam Silver had his way, the 2018 NBA Draft would be the last time 19-year-olds would be able to enter the NBA. If the players association had its way, 18-year-olds would be eligible to play in the NBA starting in 2019.
Bringing a 19th century game into the 21st century. https://www.youtube.com/watch?v=kDD02IbHjTo Baseball traditionalists and purists are not going to like this. Major League Baseball owners will be...
Fred Wilpon's Mets plan to increase the protective netting at games. Just over two years ago, three words were uttered after a woman was accidently...