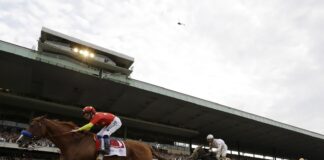 Throwback Saturday. https://www.youtube.com/watch?v=pSgD6AP_LTk&t=4s The Belmont Stakes, which started in 1867 in the...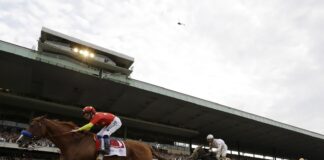 It's not 1950 anymore. https://www.youtube.com/watch?v=TUmZN45Auo8&t=4s There is a big thoroughbred horse race...
The race may be moved soon. https://www.youtube.com/watch?v=xmJdlcFqR_w The clock is ticking. The...
But the track is used just 12 days a year. https://www.youtube.com/watch?v=-alTX6xC728 The May, 2018 Supreme Court Of The United States decision to overturn the ban on...
In 2015, American Pharoah won Thoroughbred Racing's Triple Crown, but the feat did not revive the horse racing industry. Justify has a chance to win the Triple Crown at the Belmont Stakes but it is not going to matter to anyone except the hardcore horse racing fan and the horse's owners.
You probably have heard that there will be a major horse race at Belmont Park in Elmont, New York on Saturday. The Belmont Stakes and there is a horse that could win the Triple Crown named Justify.
BALTIMORE (AP) — Justify endured the most difficult race of his career and came away a step closer to becoming trainer Bob Baffert's second...
Kentucky Derby winner Justify has gotten acquainted with the track at Pimlico Race Course, where he will attempt to keep his Triple Crown hopes alive Saturday in the Preakness.
It might as well be throwback Saturday Have you heard the news there is a big horse race in Elmont, New York. The Belmont. In...
It was a question of whether Always Dreaming could hold off Classic Empire to win the second leg of the Triple Crown. But in a turn of events Cloud Computing pulled off the upset to win the Preakness.