Home
Tags
San Francisco Giants
Florida News: San Francisco Giants
Territorial rights are a problem. https://www.youtube.com/watch?v=3fcpBDSAlUk Did you hear the one about the San Francisco Giants baseball team owners who won't let the Oakland A's baseball...
AT & T also now owns Turner Sports which includes various partnerships including Turner's deal with the National Basketball Association and the National Collegiate Athletic Association and one of the major sports TV events, the Men's College Basketball Tournament.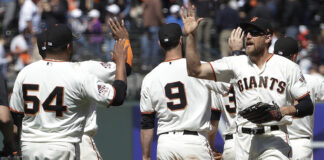 Brandon Belt had three hits, Gorkys Hernandez added a two-run single during a five-run sixth inning and the Giants beat the Marlins 6-5 on Wednesday.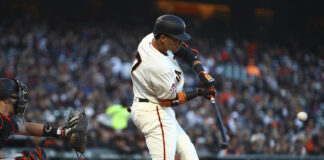 Buster Posey homered in the first, Gorkys Hernandez hit a two-run drive in the second and an RBI double later, and the San Francisco Giants held their lead this time to beat the Miami Marlins 6-3 on Tuesday in another night of plunking by both pitching staffs.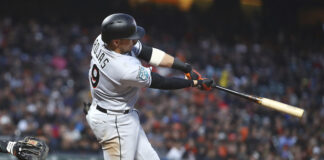 Miguel Rojas followed Lewis Brinson's RBI single with a go-ahead base hit as the Miami Marlins rallied against Strickland in the ninth inning and overcame an early four-run deficit, beating the Giants 5-4 on Monday night.
Pablo Sandoval's tie-breaking two-run single in the 16th inning lifted the Giants past the Miami Marlins 6-3 on Thursday, but the Giants also lost third baseman Evan Longoria to a broken left hand after he was hit by a pitch.
Three years after going undrafted out of Drury College, Trevor Richards has earned his first major league win. Richards pitched six effective innings to lead the Miami Marlins to a 3-1 victory over the San Francisco Giants on Tuesday night.
Madison Bumgarner blew a sixth inning lead and was ejected on the way out of his second start this season as the Miami Marlins rallied past the San Francisco Giants 7-5 on Monday night.
Back to the drawing board. https://www.youtube.com/watch?v=QKczkPgFBAI&feature=youtu.be It appears Oakland A's ownership is going back to square one and possibly build a baseball park somewhere near the...
A Commissioner speaks about Jack London. https://www.youtube.com/watch?v=ff1RGL-rbUg&feature=youtu.be Oakland A's ownership's quest for a new stadium continues and now A's ownership seems to have landed an endorsement....