Keep sending us money. https://www.youtube.com/watch?v=woE64mjc5s4 The 2026 Winter Olympics will be held in Milan...
https://www.youtube.com/watch?v=8DinPNdQ7DA Just last week, it appeared that the International Olympic Committee would have to beg politicians in...
What did Barnum say? https://www.youtube.com/watch?v=IQf6_MaTF4Y It is no secret that people around the globe have been rejecting the International Olympic Committee's big show, the Olympics. It...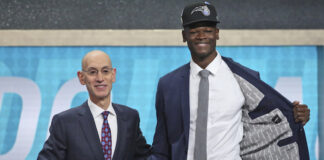 Going global. https://www.youtube.com/watch?v=MGnVq_98erQ While the National Basketball Association daily story seems to have drifted into soap opera land whether it is a storyline about LeBron James...
Calgary is gone. https://www.youtube.com/watch?v=idefpz3rUmg Unless members of the Calgary city council decide to ignore voters saying no, in a non-binding vote, to spending money on a...
Major League Baseball is in the middle of its All Star tour of Japan. Recently, National Hockey League Commissioner Gary Bettman said the league has plans to stage 2019 pre-season games in Germany and Switzerland with regular season games in Prague, the Czech Republic and Stockholm, Sweden.
November 13 is fast approaching and, in a way, it might be the day that sports organizers and sports owners are dreading. Calgary voters will go to the polls, in a non-binding referendum, and decide if they want to help fund the Calgary 2026 Winter Olympics bid.
The race is on with Calgary, a joint Milan-Cortina bid and Stockholm vying for position to break the tape at the finish line and win the 2026 Winter Olympics bid.
Former National Basketball Association Commissioner David Stern once said that a successful sports franchise needed three things. Local government support, a large local TV deal and corporate support.
The Olympics, whether it is the summer or winter version, is a hyped television show that lasts about two weeks which brings out the rah rah nationalism that is a major part of the presentation.