Florida News: Tampa Bay Rays
he Tampa Bay Rays and 2018 Cy Young Award Winner Blake Snell reached agreement on a five year/$50MM contract extension.
Ken Rosenthal of Fox Sports reports that the Rays and Brandon Lowe have reached a 6-yr/$24MM extension that includes two club options.
The Tampa Bay Rays are in search of the right mix at first base. This mixture will remain in flux well after Opening Day.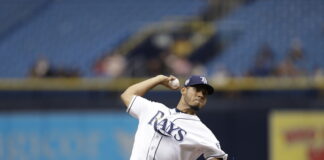 Wilmer Font was a bright spot in his short time in 2018. The Rays need to find a spott on the 25 man roster for him this spring but where?
Anthony Banda missed most of 2018 after undergoing Tommy John surgery in June. He is making strides in his return which is a good thing.
On today's show, Rock talks Super Bowl LIII ahead of this Sunday's matchup. Who are you picking? Will it be Brady and Belichick again? Will Sean McVay be able to come up with the big win? Plus, Rock talks hot stove baseball, the NFL Hall of Fame, and much more!
Garcia, who's coming off arthroscopic surgery on his right knee, hit a career-high 19 home runs last season but slumped to .236 with 49 RBIs in 93 games after batting a career-best .330 with 18 homers and 80 RBIs in 136 games in 2017, when he was an All-Star.
On today's show, Rock talks Bruce Arians and the Bucs staff that he continues to put together. What playeres will Todd Bowles want to keep on this defense? Who will he get rid of? Plus, Rock talks college football as the season is officially over, more transfer news, coaching changes, some hot stove baseball, and much more!
On today's show, Rock talks the latest head coaching search rumors for the Bucs. Who will it be? Plus, Rock talks Brent Grimes recent comments, the college football playoff, the NFL wildcard weekend, Rays removing seats, the Lightning's terrific play, and much more!
Tyler Bradley and Timothy Mallard bring you Tampa Bay Sports This Morning! Tommy Pham had some comments on the Rays attendance and Fan Base. The Lightning got a big OT win against the Flyers. What is there to expect from the Jags as they travel to Houston to take on the Texans? How about the Bucs as they host the Falcons? And the College Football Playoff is this weekend!