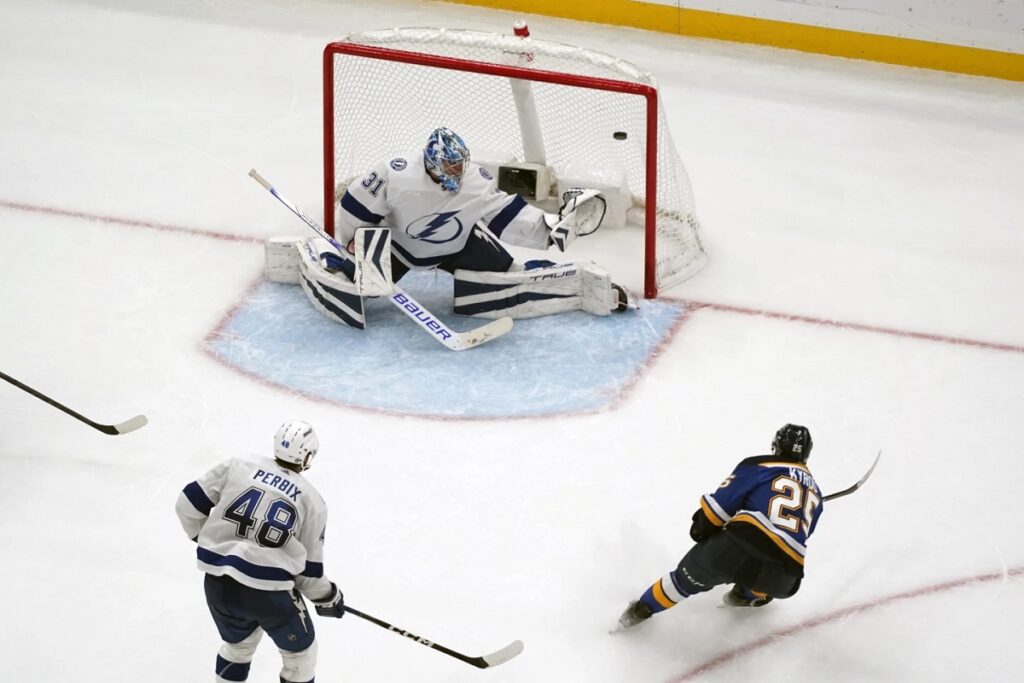 ST. LOUIS (AP) — Jordan Kyrou and Jakub Vrana scored 19 seconds apart in the second period, and Jordan Binnington made 30 saves to help the St. Louis Blues beat the Tampa Bay Lightning 5-0 on Tuesday night.
Colton Parayko and Kasperi Kapanen also scored for the Blues (8-5-1), who have won three straight.
"There wasn't a lot going on, to be honest with you, in the game, I thought, in the first period," Blues coach Craig Berube said. "I think from a defensive standpoint, checking standpoint we were pretty solid, disciplined, staying out of the box. We did a good job of finishing on some plays and scoring and then staying with it."
Binnington earned his first shutout of the season and the 13th of his career.
"It's a team that you're proud to be a part of," Binnington said. "It's a month or two of working hard and buying in. It's nice to see some results come our way. We're just staying patient and playing together and trusting the system and we're getting rewarded."
Jonas Johansson stopped 24 shots for Tampa Bay (6-6-4), which dropped its third straight.
"We had a good start and then we started giving up chances," Lightning defenseman Victor Hedman said. "The second period was an even period and then we gave up two in less than a minute so, just breakdowns. It wasn't like we were dominated. I think it was an even match. We just gave up way too much."
The Lightning were shutout for the second game in a row.
"People are going to look and say we've been shutout the last couple of games," Lightning coach Jon Cooper said. "The problem is, it's not our offense. We're giving up gifts, and we're having good stretches in the game. That's been the story this year. It's just giving up those easy ones. Guys are getting discouraged and then they're fighting it a bit, so that kind of hurts the mojo of your team."
Kapanen scored his third goal of the season into an empty net with 3:58 remaining and Kyrou scored his second goal of the game and fourth of the season with 42 seconds remaining to seal the win for St. Louis.
Kyrou took an outlet pass from Torey Krug and skated in to score on a backhand shot, and Vrana scored his second of the season on a feed from Krug 19 seconds later to give St. Louis a 3-0 lead with 3:24 remaining in the second period.
"It's just a chemistry play with (Kyrou)," Krug said. "We've talked over the years. If he sees that I get the puck in transition, he can take off and I'll try to get it to him. Obviously he saw open ice and he made a great move on the breakaway. The other goal, you've got to give Vrana a lot of credit because I don't think there's many guys in the league that score off that pass with his release."
Thomas, the Blues' leading scorer, has registered at least one point in seven straight games with five goals and six assists.
UP NEXT
Lightning: At Chicago Thursday night to close a two-game road trip.
Blues: At San Jose Thursday night to begin a four-game road trip.
___
AP NHL: https://apnews.com/hub/NHL