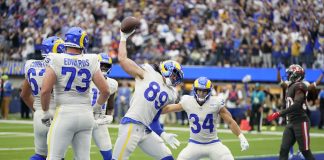 The league is fighting a lawsuit filed by the city of St. Louis. https://www.youtube.com/watch?v=ffxWMkFHNcU The National Football League is back in court as city of St. Louis...
The Canadian game was sidelined by COVID-19 in 2020. https://www.youtube.com/watch?v=adctJ96MRz8 For the first time in two years, the Canadian Football League is getting back on the field....
The league hopes a Cleveland event can take place in late April. https://www.youtube.com/watch?v=J1lek4_jarw It appears the National Football League will be attempting to start the 2021...
A sports league gets its way. https://www.youtube.com/watch?v=L941pc5LCIQ There is a ground breaking ceremony scheduled in Columbus, Ohio for a new soccer stadium which is a...
Anthony Precourt has decided that Austin, Texas is a better venue for his soccer business than the present location in Columbus, Ohio. It is that simple, Precourt would prefer his Major League Soccer team, the Columbus Crew, be based in Austin.
Major League Baseball played some regular season games in Monterey in the late 1990s causing then Colorado Rockies owner Jerry McMorris to enthusiastically push for a franchise in the city that is not far from the Texas-Mexico border.