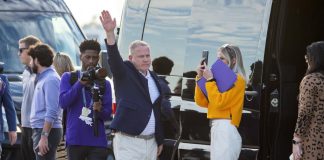 BATON ROUGE, La. (AP) — Newly hired LSU coach Brian Kelly can accept if his legacy at storied Notre Dame is tarnished by the...
Notre Dame is working on a deal to promote defensive coordinator Marcus Freeman to head coach to replace Brian Kelly, a person with knowledge...
LSU is hiring Brian Kelly away from Notre Dame, a stunning move by one of the most accomplished coaches in college football jumping from...
No. 14 Notre Dame Proved Too Much for No. 17 LSU in The Citrus Bowl Presented by Overton's: The Takeaway Orlando, FL -- When LSU...
The No. 7 Miami Hurricanes (8-0, 6-0 ACC) put their nation-leading 13 game win streak on the line vs. No. 3 Notre Dame