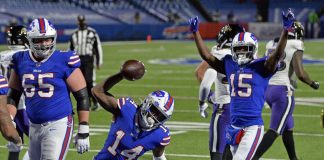 There are some hurdles to overcome for the Bills franchise to relocate. https://www.youtube.com/watch?v=Zec2bkqB6_8&t=4s The National Football League's Buffalo Bills' ownership apparently thinks it has a city that...
TORONTO (AP) — Two days after making an NHL-record 85 saves in a five-overtime loss, Joonas Korpisalo stopped 36 more shots to help the...
TAMPA -- Following a wonderful pregame ceremony on Hockey Fights Cancer night at Amalie Arena in which the Lightning and Sabres lined up on...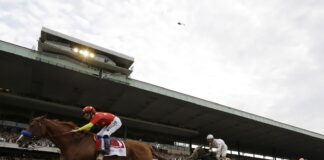 He is like Robert Moses, a big project guy. https://www.youtube.com/watch?v=SU7byx8ODjA New York Governor Andrew Cuomo is a major regional sports power broker. Cuomo pushed to get...
It's all over now. https://www.youtube.com/watch?v=JIOq_TpI-BQ At one time, Hamilton, Ontario a city about 40 miles west of Toronto was looking to land a National Hockey League...
With 30 goals and 70 assists in 62 games, Kucherov became the fastest to reach the century mark since Mario Lemieux did so in 61 games in 1996-97.
Steven Stamkos delivered the game winning goal giving Louis Domingue his 50th career win as the Lightning defeated the Sabres 5-3.
At Amalie Arena on Thursday night, the Tampa Bay Lightning lost Ryan McDonagh on an illegal hit, but they won a hard-fought game 5-4 over the Buffalo Sabres in front of yet another sellout Amalie Arena crowd.
Post and Crossbar, who team up for the unstoppable tag team of The Iron, are as unkind as the old saying suggests. You might miss one hundred percent of the shots you don't take, as Wayne Gretzky said, but the shooting percentage against The Iron isn't much higher.
It is Mother's Day and you will see baseball, basketball, soccer and hockey leagues through their radio, television and marketing partners say hello to women and throw in a story or two about women in sports.