Home
Tags
Cable TV Act of 1984
Tag: Cable TV Act of 1984
It is all about a third party's money, the consumer. https://www.youtube.com/watch?v=CVH4FN3QbVw The Disney-Charter cable TV dispute is yet another blow to big-time sports in 2023. Cable...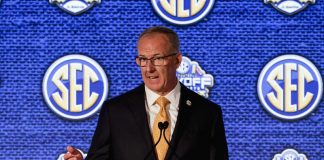 TV money is important. https://www.youtube.com/watch?v=WCyYMdf-TZQ Big 12 Commissioner Bob Bowlsby has a problem with the Walt Disney Company's ESPN unit. Bowlsby or Big 12 lawyers sent...
The National Football League is not holding a game in London this weekend nor is the league playing a game in Mexico City this Sunday or Monday. But NFL Commissioner Roger Goodell, the 31 owners and the Green Bay Packers Board of Directors continue to look at London as an international savior and a gateway to establishing the sport somewhere other than North America.
John Kennedy's signature in 1961 changed the NFL. https://www.youtube.com/watch?v=CG7Fk6-ctJo It is Election Day in America and elections do have consequences. While there is nothing that directly...