Home
Tags
DETROIT RED WINGS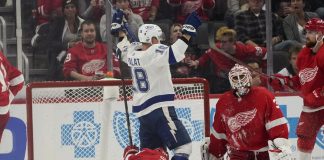 The Tampa Bay Lightning trailed 6-3 with a little less than 7-minutes to play but mounted a furious rally culminating with a 7-6 OT win over Detroit.
After dropping their season opener 6-2 to Pittsburgh the Tampa Bay Lightning are headed way up I 75 to Detroit to face the...
Teams claim they will provide a safe environment. https://www.youtube.com/watch?v=Rd4vBzrCdus The National Hockey League's pre-season schedule is starting and the COVID-19 pandemic remains a public health crisis....
VIDEO FROM NHL.COM VIA YOUTUBE - FOR MORE HIGHLIGHTS AND FEATURES CLICK HERE TAMPA, Fla. (AP) — Brayden Point delivered the highlight of a game...