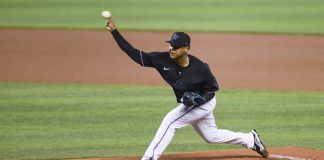 The team will honor the Sugar Kings hoping to draw local interest. https://www.youtube.com/watch?v=hzQA_kpwNXo The Miami Marlins baseball franchise has put out a political statement although it...
AVONDALE, Ariz. (AP) — Denny Hamlin is 0-for-3 in championship chances, his shot at an elusive first NASCAR crown ending just short each time. It's...
Maple Leaf Sports Enterprises is getting a large paycheck for naming rights at the arena. There will be a new name attached to the home...