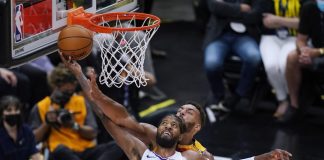 A new basketball arena is coming to Inglewood, California. https://www.youtube.com/watch?v=lc9fiQ-uLnM It is a big day in the history of the Los Angeles Clippers. It is arena...
Inglewood will be home. https://www.youtube.com/watch?v=PRTdA4dmn4A Steve Ballmer owns the Los Angeles Clippers. Steve Ballmer plans to build an arena-village for his National Basketball Association franchise. Steve...
The business of sports business is business. https://www.youtube.com/watch?v=Ub5sEq8ilbs In the while you were away department, there was some real sports news that was overlooked. The National...
A huge victory.   https://www.youtube.com/watch?v=XntxlURHZiw In some ways, it really doesn't matter if the Los Angeles Clippers and the National Basketball Association finish out the...
The fight is on. https://www.youtube.com/watch?v=T0bbKO-47-8&t=4s The NBA's Los Angeles Clippers on court season is over but the next game, one with far reaching...
Here is a question worth asking. What is going on with James Dolan and his Madison Square Garden business? Dolan is apparently getting in and out of the arena and entertainment building business on one hand and yet continuing building entertainment venues on the other hand.
Steve Ballmer, the former Microsoft CEO and the owner of the National Basketball Association's Los Angeles Clippers, wants a new arena for his basketball business and has decided that Inglewood, California is a great place to relocate his business.