Home
Tags
Las Vegas Convention and Visitors Authority
Tag: Las Vegas Convention and Visitors Authority
The resurgence of F1 racing in America has started. https://www.youtube.com/watch?v=3uCjqxjPbeA For a sport that was dead in the United States for years, Formula One Racing has made...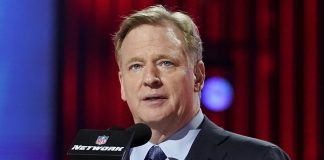 The Super Bowl is headed to Las Vegas. https://www.youtube.com/watch?v=HOn35m8jf-o Once upon a time, National Football League owners and the Green Bay Packers Board of Directors along...
The only thing missing is Elvis. https://www.youtube.com/watch?v=oTfCcwBEYHI This is a quiet time for the National Football League. The league is two weeks removed from the...
The NHL's Vegas Golden Knights franchise will be joined by the NFL's Mark Davis Raiders in two years, the NBA has a summer development league in town and Major League Baseball might be interested in at least kicking the tires and take a look at the city in the event there is an expansion or relocation opportunity in the future.