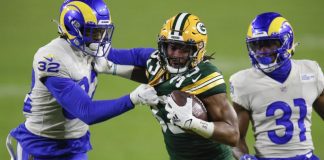 Division rivalries add extra spice to NFL matchups. There are a bunch of them in Week 15 as teams hit the stretch run. OK, maybe...
NEW YORK (AP) — Lamar Jackson and the Baltimore Ravens have already made plenty of history this season. They have won 11 consecutive games, have...
Tyler Bradley and Timothy Mallard bring you Tampa Bay Sports This Morning! The Divisional round of the NFL Playoffs is over and its off to the Conference Title games. The Patriots will head to Arrowhead to face the Chiefs. And the Rams travel to NOLA to face the Saints. The Seminoles of Florida State lost a heart breaker at the Buzzer to Duke. The Magic have rattled off back to back wins against the Celtics and the Rockets. Todd Bowles had his introductory presser, what did he have to say?