Home
Tags
San Diego Padres
Rays And Padres Agree To Blockbuster Deal Late last night, the Tampa Bay Rays and San Diego Padres agreed to a deal sending Tommy...
In retrospect, the 1969 expansion was a failure. https://www.youtube.com/watch?v=9p6mePeCUeI It appears that Major League Baseball has fallen back in love with the Montreal Expos....
Major League Soccer is waiting for the Austin City Council's decision to give the go ahead to a soccer stadium plan that would allow Precourt Sports Ventures to move its Columbus Crew franchise to the Texas capital in 2019.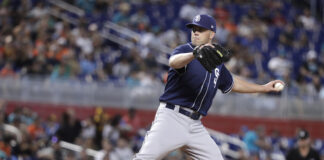 Clayton Richard became the latest San Diego pitcher to flirt with a no-hitter, losing his bid with two outs in the seventh inning during a 3-1 win over the Miami Marlins.
Travis Jankowski hit a go-ahead bases-loaded single in the eighth inning to lift the San Diego Padres over the Miami Marlins 5-4 on Saturday.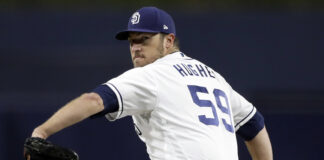 Villanueva's homer total before June 1 is the most by a National League rookie since St. Louis' Albert Pujols hit 16 in 2001. His power surge has helped the Padres win three straight and four of their last six games.
Pinch-hitter Hunter Renfroe's infield single in the ninth inning led to two runs when third baseman Miguel Rojas followed with a throwing error, lifting the San Diego Padres to a 3-2 victory over the Miami Marlins on Wednesday night.
Franmil Reyes hit a two-run homer that put San Diego ahead and the Padres got a fine effort from their bullpen Tuesday night in a 9-5 victory over the Miami Marlins.
Caleb Smith (4-5) allowed one run and four hits in seven-plus innings, Yadiel Rivera's two-run single capped Miami's four-run first inning and Cameron Maybin had three hits and two RBIs against his old team to lead the Marlins to a 7-2 victory against the Padres on Monday.
The Walt Disney Company is bringing back Roseanne, https://www.youtube.com/watch?v=I_2Q_67b6S0&feature=youtu.be The rebooted television show Roseanne is on Disney-ABC's schedule starring Roseanne Barr who goes by just one...