Kylian Mbappe and France put on a thrilling show in winning the World Cup title. All Russian President Vladimir Putin might remember is the Pussy Riot protest. The 19-year-old Mbappe became only the second teenager after Pele to score in a World Cup final, helping France beat Croatia 4-2 on Sunday.
Croatia's legs seemed heavy, burdened by the accumulated toll of consecutive penalty-kicks wins needed to get this far. England had gone ahead with a free kick just five minutes in, dominated play and appeared headed to its first World Cup final since 1966.
Joseph Stalin's secret bunker has become the unlikely meeting point for thousands of fans who have descended on the Russian city of Samara during the World Cup.
Real Madrid has denied a report that it has offered to buy Neymar from Paris Saint-Germain for a world record transfer of 310 million euros ($360 million). Madrid says the report by Spanish public broadcaster TVE is "absolutely untrue," adding the team "made no offer of any kind to PSG or the player."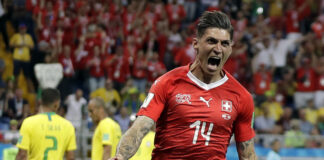 The latest action at the World Cup, from Germany's loss against Mexico to Brazil's draw with Switzerland.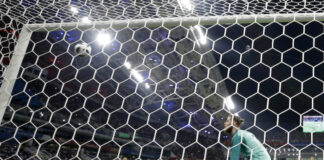 Ronaldo rubbed his chin after scoring minutes into Portugal's opener against Spain, implying he is the Greatest of All Time. Then he scored two more goals, including a perfectly placed 88th-minute free kick that gave his team a 3-3 draw Friday.
Delegates from the governing body of soccer, FIFA, will be handing out the 2026 World Cup to either the United 2026 coalition of the United States, Canada and Mexico or Morocco on Wednesday at a meeting in Moscow, Russia.
FIFA has already been guaranteed an $11 billion profit by the backers of United 2026, a coalition of three countries, the United States, Canada and Mexico.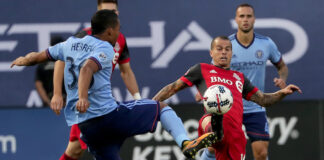 Ismael Tajouri-Shradi scored two goals and New York City FC blanked Orlando City SC 3-0 on Saturday night. The Libyan winger took a pass from Anton Tinnerholm in space, cut the ball to his left foot and tucked the ball inside the far post to make it 1-0 in the 35th minute.
The governing body of global soccer, FIFA is meeting in Hungary with just one pressing topic on the group's agenda. Have the United 2026 and Morocco 2026 World Cup bids progressed enough that the two bids can be considered on June 13 and that FIFA can award the 2026 World Cup on that date in a meeting in Moscow, Russia.