Home
Tags
Thoroughbred racing
Florida News: thoroughbred racing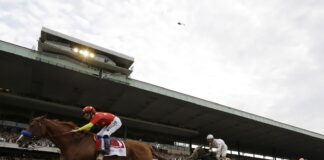 Throwback Saturday. https://www.youtube.com/watch?v=pSgD6AP_LTk&t=4s The Belmont Stakes, which started in 1867 in the...
In 2015, American Pharoah won Thoroughbred Racing's Triple Crown, but the feat did not revive the horse racing industry. Justify has a chance to win the Triple Crown at the Belmont Stakes but it is not going to matter to anyone except the hardcore horse racing fan and the horse's owners.
changes could be coming https://www.youtube.com/watch?v=bEZIwCDKsQA The New York State legislature has gone back to work and the horse racing industry is watching Albany very closely because...