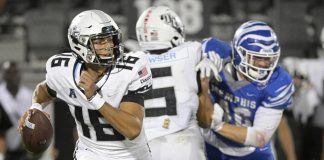 By Nick Raffoul Winnersandwhiners.com is the top handicapping site in the business. The Tulane Green Wave will head to the Bounce House in Orlando, Florida on Saturday afternoon for...
The AAC is going shopping. https://www.youtube.com/watch?v=OFwZTQESKuk Conference USA is probably going to lose six schools because the schools' presidents and chancellors think that jumping to the...
The game of musical chairs continues. https://www.youtube.com/watch?v=C3ZzDpok4-I It appears the American Athletic Conference is on the cusp of adding big time college and university sports programs to...
The AAC, the Sun Belt and others are plotting their next moves. https://www.youtube.com/watch?v=diQdb3dCYX4 Now that the Big 12 has taken three American Athletic Conference schools, it...
Led by Darius Bradwell's career-high 150 yards rushing, the Green Wave piled up 337 yards on the ground in a 41-24 Cure Bowl win over Louisiana.
After suffering their first loss at Houston last week, USF returns home and looks to get back on the winning track against visiting Tulane.