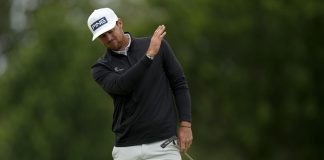 TULSA, Okla. (AP) — Mito Pereira spent four hours soaring and sliding at Southern Hills in the cold and wind, calling it the biggest...
The AAC is going shopping. https://www.youtube.com/watch?v=OFwZTQESKuk Conference USA is probably going to lose six schools because the schools' presidents and chancellors think that jumping to the...
The game of musical chairs continues. https://www.youtube.com/watch?v=C3ZzDpok4-I It appears the American Athletic Conference is on the cusp of adding big time college and university sports programs to...
The AAC, the Sun Belt and others are plotting their next moves. https://www.youtube.com/watch?v=diQdb3dCYX4 Now that the Big 12 has taken three American Athletic Conference schools, it...
Last year it was Tulsa that upset Central Florida and helped to derail another trip to a New Year's eight bowl game. Well, the...
No. 23 USF still has some things to clean up as conference play resumes Friday night at Tulsa
National Basketball Association pre-season games are being played and in a sense, the pre-season is a reminder of what the National Basketball Association of the 1950s was like. Anyone willing to throw down a basketball floor could land a game.