Josh Heupel was hired as Tennessee's football coach on Wednesday, giving the Vols a package deal with athletic director Danny White, who started in...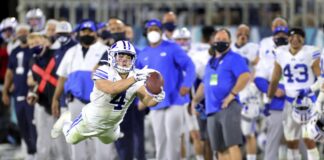 BOCA RATON, Fla. (AP) — The NFL will have to wait for BYU's Zach Wilson — for a few days, at least. Wilson threw for...
If there is a college football season, Wednesdays could be busy for medical staffs around the country. The NCAA's latest guidance for playing college sports during the...
Coastal Carolina already had one of the smaller athletic budgets in the Football Bowl Subdivision, and that was before a 15% spending cut was...
NEW YORK (AP) — The NCAA is planning to extend the eligibility of athletes on spring sports teams by one year to make up...
LSU was sixth and Southeastern Conference rivals Florida and Georgia were tied for seventh. Texas was ninth, its best final ranking since 2009 when the Longhorns finished second after losing to Alabama in the BCS championship game.
Tyler Bradley and Timothy Mallard bring you Tampa Bay Sports This Morning! The Bucs have fired Dirk Koetter. Beevo attacks UGA. UCF Gets Topped by LSU.
Tyler Bradley and Timothy Mallard bring you Tampa Bay Sports This Morning! Covering all of the news surrounding the Tampa Bay Buccaneers and Lightning. Also keeping you covered with all of the State of Florida schools and early signing period.
McKenzie Milton threw for 268 yards and accounted for four touchdowns Saturday night, helping the defending American Athletic Conference champions remain unbeaten and extend the nation's longest winning streak to 23 games with a 38-13 rout of No. 19 Cincinnati.
It was a big weekend for the Power Five schools in the Sunshine State.  The Florida Rankings have been clear-cut for the past few weeks, but with Saturday's shakeups the voting became much closer.