Home
Tags
Washington Capitals
NEW YORK -AP- Get used to the concept of pods and pucks if the NHL is going to have any chance of completing its...
The real joy of being a sports fan is the ability to share stories with a close friend. Someone who has the same level of passion...
WASHINGTON (AP) — It looked like curtains for the Washington Capitals when Lars Eller went to the penalty box with the score tied and...
Following a four-day layoff the Lightning fell behind Washington early and never recovered in a 6-2 defeat.
The first meeting between last year's Eastern Conference finalists was worth the wait for the Amalie Arena crowd.
A dominant first period and a three-goal lead had the Florida Panthers feeling a little too good about cruising toward their first victory of the season.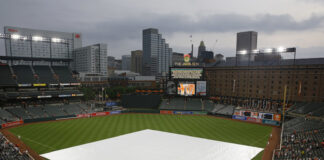 Rumor du jour. https://www.youtube.com/watch?v=nquO3G5tqMs&t=1s Baltimore Sun writer Peter Schmuck had an interesting column last week about the long term future of Major League Baseball's Baltimore Orioles...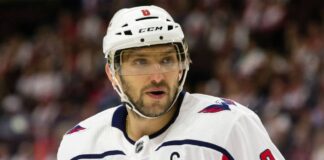 As the finals seconds of Game 5 of the Stanley Cup Finals melted away, the scoreboard at the T-Mobile Arena read Washington 4 Las Vegas 3 and two things were certain. The Capitals had just won their first Stanley Cup Championship and Alex Ovechkin, the greatest goal scorer of his generation and one of the best of all time could finally silence a small portion, of the hockey world who still refused to believe how good he really is.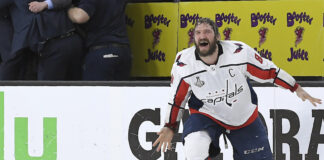 Alex Ovechkin scored midway through the game and Lars Eller had a go-ahead goal with 6:37 left in the third period, lifting the Capitals to a 4-3 victory over the Vegas Golden Knights in Game 5 on Thursday night.
Alex Ovechkin went airborne, Evgeny Kuznetsov flapped his arms like a bird of prey and the Washington Capitals are flying high, just two wins away from winning the Stanley Cup.