Home
Tags
World Baseball Classic
Tag: World Baseball Classic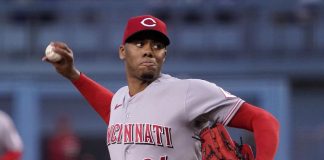 MLB is trying to establish a base in London. https://www.youtube.com/watch?v=-o9Fv6q1GUM Major League Baseball is hoping to grow its business in Europe with a number of games...
COVID-19 is problematic. https://www.youtube.com/watch?v=-VadX-6EVGs While Florida Governor Ron DeSantis wants college football teams to play in the state, a state that is wrestling with COVID-19 community...
NEW YORK (AP) — The World Baseball Classic will be postponed from 2021 to 2023 because of the new coronavirus, a person familiar with...
The Timing Of The World Baseball Classic Was Not Ideal The world cares more than I do. Okay, I said. I think I'm admitting the...