Home
Tags
Arizona Diamondbacks
Florida News: Arizona Diamondbacks
Samson has some valid points. https://www.youtube.com/watch?v=W2cgYHJ4tTM Major League Baseball probably has a...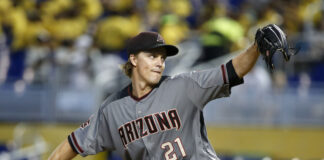 Las Vegas is suddenly a hot sports market. https://www.youtube.com/watch?v=qaFisR3YTKE The Major League Baseball...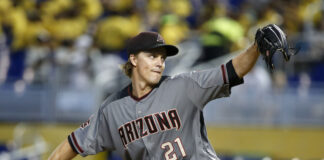 Viva Las Vegas! https://www.youtube.com/watch?v=l1-pqdT2Tzk The recent news that Arizona Diamondbacks officials decided to listen...
Is Portland really a good MLB market? https://www.youtube.com/watch?v=za3FJTt2Okg For some reason, there...
It is always about the money. https://www.youtube.com/watch?v=ikV-nR7CxCo&t=3s The clock is ticking in Phoenix as the National Basketball Association's local franchise owner Robert Sarver attempts to get...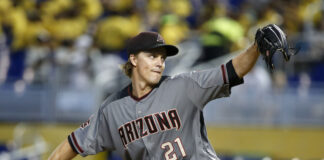 Zack Greinke grinned as he stepped to the plate in the sixth inning Thursday afternoon, and then swung at the first pitch for another hit. The Arizona Diamondbacks right-hander pitched seven innings and was an offensive dynamo , too, helping to beat the Miami Marlins 4-0.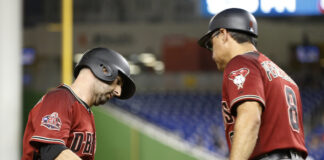 Robbie Ray looked like he was in All-Star form while making his first start in nearly two months. Ray returned from the disabled list and pitched six scoreless innings to help the Arizona Diamondbacks beat the Miami Marlins 2-1 on Wednesday night.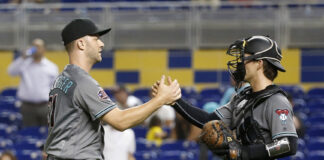 John Ryan Murphy had a busy day at the plate. Murphy drove in a career-high three runs to help the Arizona Diamondbacks to a 5-3 victory over the Miami Marlins on Tuesday night.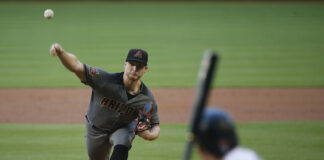 Brian Anderson and Cameron Maybin each drove in two runs to help spoil Shelby Miller's return to the mound after missing over a year for Tommy John surgery as the Miami Marlins beat the Arizona Diamondbacks 9-5 on Monday night.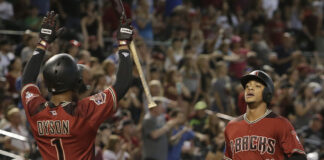 Matt Koch allowed three hits over seven scoreless innings and the Arizona Diamondbacks completed a three-game sweep, beating Miami 6-1 Sunday and extending the Marlins' losing streak to a season-long six games.