It is back to the drawing board in Jupiter, Florida for the owners of the St. Louis Cardinals and the Miami Marlins and local officials who are discussing how to proceed with plans to renovate the spring training complex in the town
People now know that the Tampa Bay Rays ownership has a stadium design and a spot in Ybor City for that stadium. The ownership group has identified what type of fan they want in the building.
Homestead 's baseball dream crashed because of the 1992 hurricane. https://www.youtube.com/watch?v=KikCGl-AmSA The end is seemingly near for a spring training complex that was never used by...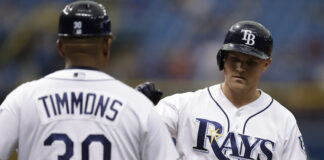 The owners of the Tampa Bay Rays think they will have a much better understanding of the franchise's future sometime in the foreseeable future, perhaps as early as the end of the year or the beginning of spring training in February 2019.
What was new, state of the art and the envy of other Major League Baseball owners in 2004, the Philadelphia Phillies Clearwater stadium and spring training complex is old and antiquated in 2018.
Did you hear that the Miami Marlins and the St. Louis Cardinals baseball teams owners are unhappy with the shared spring training facility in Jupiter, Florida? But the two team owners have an idea.
Florida Could Be In The Sports Betting Business Soon With the Supreme Court ruling the option to offer a sports book in Florida casinos becomes possible.
The first getting to know you meeting with potential owners of a Montreal Major League Baseball team and Mayor Valerie Plante took place last week and Plante seems open to support Stephen Bronfman and Mitch Garber's plan to bring a team back to the city.
DALLAS, Tx. -- Gators are moving on to the round of 32 after beating St. Bonaventure 77-62. "We've had some quality wins this year. We've...
Malone's Braves Number 1 At Public Subsidies. https://www.youtube.com/watch?v=Ok9pWr9xlKE John Malone's Liberty Media Major League Baseball Atlanta Braves franchise did not have a very good year in...