Florida News: Heisman Trophy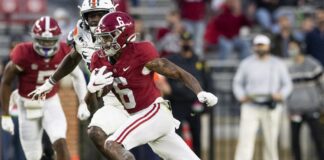 NEW YORK (AP) — On an Alabama team stacked with stars, DeVonta Smith emerged as the best player in college football while...
NCAA college football player, LSU quarterback Joe Burrow poses for a photo after winning the Heisman Trophy, Saturday, Dec. 14, 2019, in New York. (AP Photo/Jason Szenes)
On today's show, Rock talks the Bucs loss to the Saints. Where do the Bucs go from here? Plus, Rock talks the "Miami Miracle," the Heisman, Clearwater's Keith Thurman Jr., Rays baseball, and much more!
On today's show, Mike Nabors fills in for Rock Riley. Mike covers the New Orleans Saints, so he has lots of insight for this Sunday's matchup. Mike talks Brees and Winston comparison, the Bucs remaining schedule, the impending bad weather during the game, the Heisman trophy, Tampa Bay Rays talk, and much more!
This is the time of year that the followers of college football are anxiously reading about or listening to talk radio or watching TV hoping to find out about their favorite team or which players are Heisman hopefuls or which school is unstoppable.
Getting a good look. https://www.youtube.com/watch?v=Lbfl-5J1WFk If you go to the NFL's website you can read about an event created for football starved fans who have not...