Home
Tags
National Football League
Florida News: National Football League
The National Football League's actual product, a game, will be on display in Canton, Ohio with Chicago and Baltimore on the field using many players who more than likely will end up in the Alliance of American Football in 2019.
The gates are swinging open for National Football League training camps as teams prepare for the 2018 season. The league is in great financial shape. The Green Bay Packers, a public company, released financial figures which showed that the league distributed $8.1 billion to teams in 2017.
Queensland, Australia officials want to host a National Football League game in Brisbane. Local tourism officials think an NFL game would bring in American tourists. But NFL personnel think Australia is too far away for the league to stage a regular season game.
The Major League Baseball All Star Game started off as a gimmick and remains a gimmick 85 years after the first game was played in Chicago. Neither American nor National League owners ever thought about pitting their stars against one another in the previous 30 years that the American League claimed major league status.
A President constantly carping about players kneeling during the national anthem presentation which combined with people's disgust with players kneeling during the national anthem is leading to people turning away from the National Football League.
National Football League training camps will open soon and usually newspapers are filled with anticipation stories about the local NFL franchise. The Charlotte Observer has the usual puff pieces about the excitement of the opening of training camp and a new season along with some additional coverage.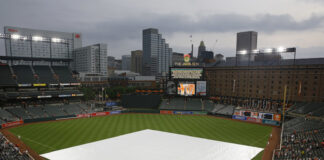 Rumor du jour. https://www.youtube.com/watch?v=nquO3G5tqMs&t=1s Baltimore Sun writer Peter Schmuck had an interesting column last week about the long term future of Major League Baseball's Baltimore Orioles...
AT & T also now owns Turner Sports which includes various partnerships including Turner's deal with the National Basketball Association and the National Collegiate Athletic Association and one of the major sports TV events, the Men's College Basketball Tournament. 
The where LeBron James will play in the 2018-2019 season storyline continues. But there are those in Cleveland who are hoping that LeBron James remains in the city as a member of Dan Gilbert's Cavaliers business because he means money to some local businesses.
Steve Ballmer, the former Microsoft CEO and the owner of the National Basketball Association's Los Angeles Clippers, wants a new arena for his basketball business and has decided that Inglewood, California is a great place to relocate his business.