Home
Tags
Pittsburgh pirates
Florida News: Pittsburgh pirates
The Tampa Bay Rays have acquired right handed pitcher Aaron Slegers from the Pittsburgh Pirates in exchange for cash considerations.
Adam Frazier had three hits and made a run-saving play in the field, and the Pirates beat the Colorado Rockies 4-3 on Wednesday.
The Tampa Bay Rays were involved in the biggest deal at the MLB Trade Deadline, dealing Chris Archer to the Pittsburgh Pirates.
Corey Dickerson's bunt single in the ninth inning scored the only run and the Pittsburgh Pirates won a game of small ball, beating the Miami Marlins 1-0 on Saturday night.
Playing in the big leagues for the first time since 2016, Shuck tied a Marlins franchise record for hits in a debut, sparking Miami to a 7-2 win over the Pittsburgh Pirates on Friday night.
Baseball officials were lost in the aftermath. https://www.youtube.com/watch?v=vgnZwgPnKzA&feature=youtu.be Fifty years ago today, the Reverend Dr. Martin Luther King Jr. was gunned down in Memphis, Tennessee. The...
BRADENTON, Fla. (AP) — The Major League Baseball Players Association filed a grievance against the Miami Marlins, Oakland Athletics, Pittsburgh Pirates and Tampa Bay...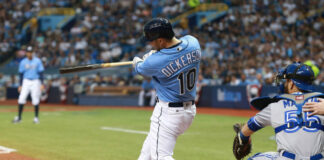 Dickerson Dealt To Pittsburgh The Tampa Bay Rays traded Corey Dickerson to the Pittsburgh Pirates in exchange for reliever Daniel Hudson, minor league infielder Tristan...
Almost time for spring training. The battle is beginning between the owners and players. https://www.youtube.com/watch?v=8QKTFK1weLs Did Major League Baseball owners collude and not sign free agents to...
David Freese was thinking about throwing the ball before it was in his glove. He never got the chance to wing it. Freese misplayed a groundball at third base, allowing Steven Souza Jr. to score in the 10th inning and giving the Tampa Bay Rays a 4-2 win over the Pittsburgh Pirates on Tuesday night.