You have money, you can have a team. https://www.youtube.com/watch?v=MOUgByudklU Major League Soccer...
Decision time is near. https://www.youtube.com/watch?v=5dMsbP-LBCA Major League Soccer owners have a meeting and it...
MLS expansion plans proceed. https://www.youtube.com/watch?v=Omynm7LHvXo The race for Major League Soccer's 28th team and the last expansion slot available at the moment is on. It appears that...
Is its a good  investment? https://www.youtube.com/watch?v=JQFR9p9joc0&t=5s The Major League Soccer regular season is a few days away but the biggest story going into the 2019 season...
The money people are lining up with checkbooks in hand. https://www.youtube.com/watch?v=mrld6xVFG5s Here is a question that probably cannot be answered. Do any of the teams in...
It is somewhat astonishing that the Canadian Football League is still in existence and has outlasted three American Football Leagues, the All American Football Conference and a whole bunch of other leagues including the United States Football League and the XFL.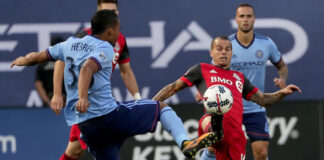 Has Major League Soccer given Austin an expansion team or is the league still searching for two cities to get the membership up to the stated goal of having 28 teams?
The owners of Major League Baseball's St. Petersburg-based Tampa Bay Rays have purchased the St. Petersburg-based Tampa Bay Rowdies of the United Soccer League.
The struggle to find cities with the right stuff to join Major League Soccer continues but league owners should be happy with some of the latest developments.
Major League Soccer is waiting for the Austin City Council's decision to give the go ahead to a soccer stadium plan that would allow Precourt Sports Ventures to move its Columbus Crew franchise to the Texas capital in 2019.