Home
Tags
St. Louis Cardinals
Florida News: St. Louis Cardinals
No Tokyo stop in 2020. https://www.youtube.com/watch?v=K1tNBcTeuW4 It is...
Show us more money. https://www.youtube.com/watch?v=DSHsXQtx2-k Major League Baseball will play another two games...
A change is gonna come. https://www.youtube.com/watch?v=ngBGXJ0DAQ4&t=3s It is Black History Month and it was in the 1960s that African-American athletes decided they could protest and speak...
Some sports taboos have fallen quickly in 2018. Sports owners, who allegedly detested legalized sports betting, are getting money from a newly found revenue source, legalized sports betting.
Matt Carpenter hit a tiebreaking homer for the second consecutive night, and the St. Louis Cardinals won their fourth series in a row Wednesday by beating Miami 7-1.
Matt Carpenter showed just why he has won two of the last three Player of the Week awards in the National League on Tuesday.
Javy Guerra cleaned up a ninth-inning mess created by Barraclough, getting Yadier Molina to hit into a double play to end the Marlins' 2-1 victory over the St. Louis Cardinals.
It is back to the drawing board in Jupiter, Florida for the owners of the St. Louis Cardinals and the Miami Marlins and local officials who are discussing how to proceed with plans to renovate the spring training complex in the town
The Rays, expected to be big sellers prior to today's trade deadline kicked the day off as buyers acquiring Tommy Pham from the Cardinals.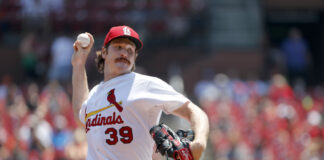 Mikolas (7-1) continued his hot start in the steamy conditions on Thursday, allowing an unearned run in seven innings to lead St. Louis past the Miami Marlins 4-1. He struck out five and walked one, lowering his ERA to 2.27, as the Cardinals salvaged the series finale after a pair of losses.