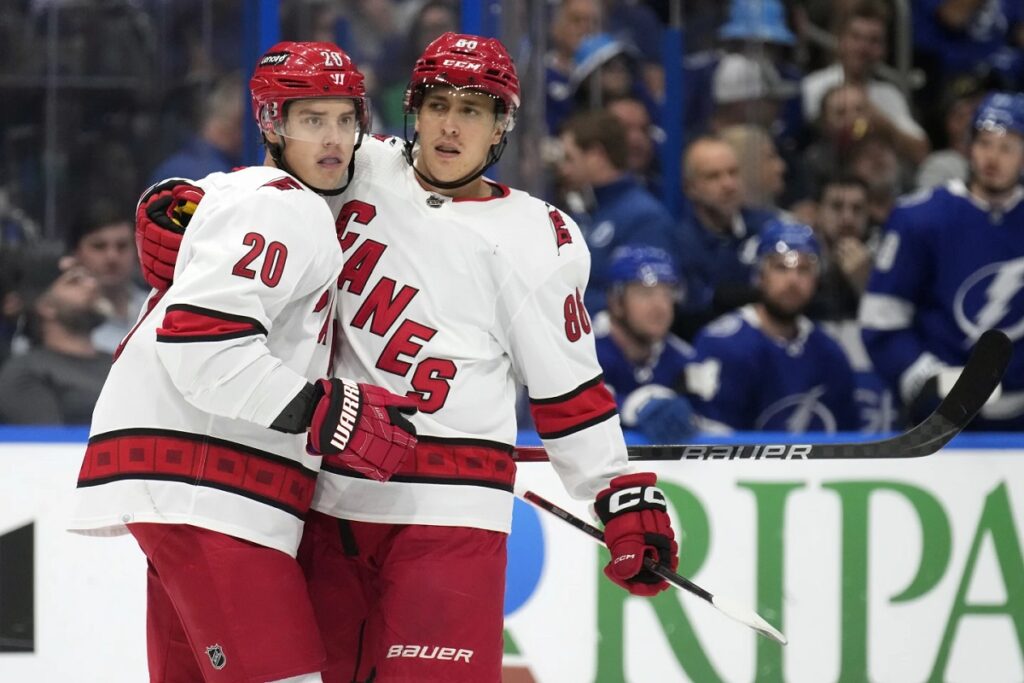 Follow @Steve_Kinsella1
Tampa, FL – The Tampa Bay Lightning were were shutout by the Carolina Hurricanes 4-0 on Saturday night at Amalie Arena.
Tuevo Teravainen, Sebastian Aho, Brent Burns, and Stefan Noesen each scored and Pyotr Kochetkov stopped 23 shots for the Carolina Hurricanes.
With the loss, the Lightning fall to 6-5-4 on the season and drop consecutive home games and are 4-2-2 at Amalie Arena. The Lightning are just 1-2-1 their last four contests. "The last two times we've played these guys, we've shut them out." Tampa Bay Coach Jon Cooper said. "There's a little give and take, you're not going to win every one."
The Lightning came home from the road trip and now depart from their 2-game homestand without getting a point in the game against the Chicago Blackhawks Thursday night or tonight against the Hurricanes. "With how much we are on the road, we have to get these points." Cooper said. "It's disappointing to come out of these two games without a point. Now we go back out on the road, but you are going to get beat some nights. I'm not completely thrilled with how we got beat tonight, just adds more pressure for us to go out on the road, we have to come together and not accept what happened these last two games."
The Lightning were outshot 32-23, including a 15-9 deficit in the first and a 9-3 deficit in the second. Tampa Bay recorded its lowest shot total through two periods this season with 12. Goaltender Jonas Johansson made 28 saves and moved to 5-3-4 this season. Lightning defenseman left the game in the second period and did not return.
Kucherov Misses Game With Illness:
Nikita Kucherov missed the game due to an illness. It was a big loss for the Lightning as Kucherov's 23 points (11-goals, 12-assists) ranks second in the NHL. He is tied for first with seven multiple-point games , tied for second for shots on goal with 63, and tied for 3rd with four power-play goals.
Kucherov's late scratch from the lineup did play a role in the team's performance. "I think if you took the top player off any team in the league…right before a game, it'd be somewhat of an issue." Cooper said. Captain Steven Stamkos added "He's [Kucherov] is one of the best, if not the best on the power play. We weren't prepared for that [late scratch] coming in, it was kind of a last second thing. Guys step up and do their best, and they did, we just didn't get it done."
"You're not going to replace a player like that." Victor Hedman said about Kucherov's absence. "Obviously, you take Stammer, Kuch, Pointer, you're not going to replace a player like that."
Up Next For Bolts:
The Tampa Bay Lightning head out on the road for a pair of games First, they'll travel to St. Louis to take on the Blues on Tuesday night at 8:00 p.m. EST. They'll finish the quick two game trip in Chicago against the Blackhawks on Thursday night at 8:00 p.m. EST.