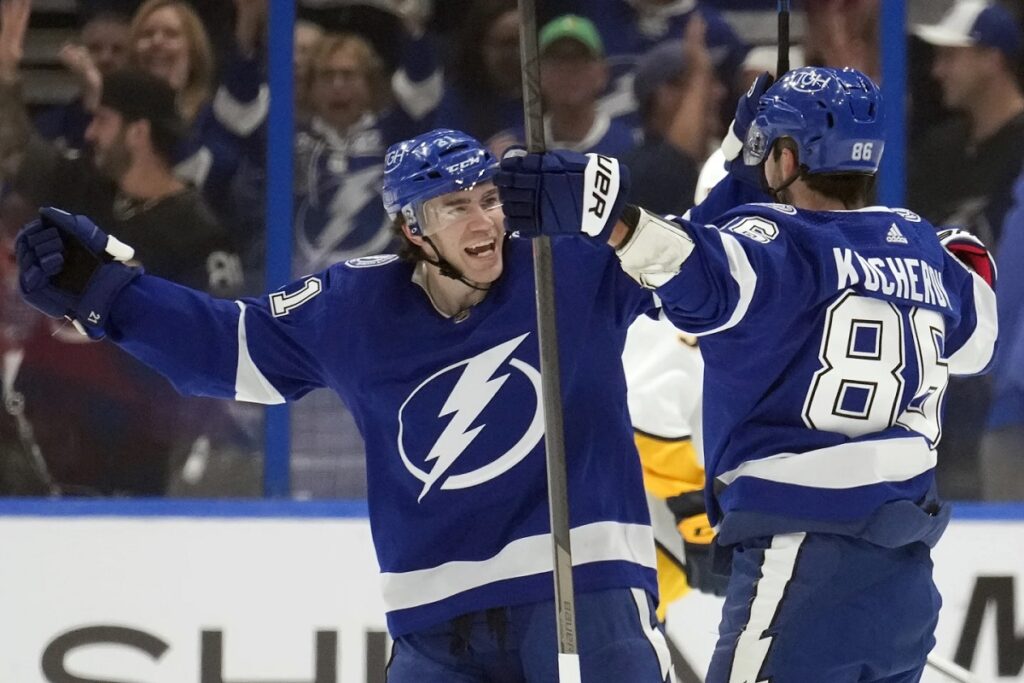 Follow @Steve_Kinsella1
Tampa, FL – Nick Paul scored a pair of power play goals, Nikita Kucherov scored a pair including an empty netter to cap the scoring, and Brandon Hagel scored on a penalty shot while Jonas Johansson made 28-saves as the Tampa Bay Lightning defeated the Nashville Predators 5-3 on Opening Night.
With the win, the Lightning improve to 20-9-2 in 31 season-opening games.
Ryan O'Reilly, Juuso Parssinen, and Tommy Novak each scored for the Predators.
It was a special day for a Lightning and that wasn't lost on head coach Jon Cooper. "So much emotion goes into the first game." he said. "I know there's 82 of them, but there's something special about the first one."
Two questions heading into the season that the Tampa Bay Lightning will have to answer are how are the new guys going to gel and how will Jonas Johansson respond as the primary net minder in the absence of Andre Vasilevskiy who's out for the first two months after undergoing back surgery.
It was hard not to be pleased with the team effort on the night. "I thought everybody contributed. Right down the line." He said. "Everybody had something to do with this win tonight from the goalie on out. If we're going to have success, this team, it's going to come from everybody."
As to the goalie question. Jonas Johansson looked promising in three preseason games, but those can be a distant memory in quick fashion when the temperature of the regular season rises.
"There's a couple of positions in sports. Quarterback in football, starting pitcher in baseball, and goalie in hockey. Those are pretty marquee spots where you're kind of alone at times." Cooper said. "His game was quiet and he made himself big. He wasn't erratic. He just plays positional goal. When the heat got turned up, his heart rate didn't go up. You'd have to say he passed the test."
Count Nick Paul as someone who was impressed with his goalie. "He's awesome. He made some big stops there. Couple up front. They had a nice chance up front and he came up big." Paul said. "He's huge and as we keep going obviously we don't want to give those Grade A's up but he's going to keep getting his confidence and getting better and better.
Nikita Kucherov opened the scoring midway through the first period with a one timer past Juuse Saros. The Lightning outshot the Predators 13-2 in the first period.
Nashville tied the game with under four minutes to go in the second period on a 2 on 1 break led to a Ryan O'Reilly goal. The Lightning were outshot 14-5 in the second period and had to kill two penalties. The 2nd period ended with the score tied at 1-1.
Juuso Parssinen scored just 11 seconds into the third period to put the Predators up 2-1. Nashville appeared to score their third goal one minute into the period but it was waived off due to goalie interference.
The third time was the charm for the Lightning's power play unit as Nick Paul scored a power play goal to tie the game up with 17:35 to go in the third.
Less than a minute later Brandon Hagel converted on a penalty shot awarded to him after being pulled down by Luke Schenn on a breakaway.
Tommy Novak scored a power play goal midway through the third period to tie the game at 3-3.
Nick Paul scored a power play goal to give Tampa Bay the 4-3 lead with 9:08 remaining.
Nashville pulled their goalie for the final two minutes and pressured Johansson and the Bolts defense and both answered the bell. Nikita Kucherov scored an empty netter with just 1.1 seconds remaining to cap the scoring.
Up Next:
The Lightning head to Detroit to take on the Red Wings on Saturday night at 7:00 EST.