Home
Tags
Colorado Avalanche
Florida News: Colorado Avalanche
On Saturday night in front of a packed and raucous Amalie Arena crowd, the Tampa Bay Lightning defeated the Colorado Avalanche 7-1 in a game that was never in doubt.
Nikita Kucherov scored on a power play with 13:36 remaining, Andrei Vasilevskiy outperformed Semyon Varlamov in a goaltender showdown and the Tampa Bay Lightning beat the Colorado Avalanche 1-0 on Wednesday night.
https://embed.air.tv/v1/embed/ED5SCAi3Tb2H4CRSsJCAnQ/oTBxQb-0S56gkw7m9smoBQ?video_sizing=fixed&video_width=560&video_height=315&show_player_title=false&show_div_title=false&show_div_description=false Tampa Bay is the first NHL team to 20 wins Steven Stamkos reclaimed the NHL lead in points, Peter Budaj had a number of key...
The NHL in China. The National Hockey League's first adventure in China begins with a pair of pre-season games in Shanghai and Beijing featuring the...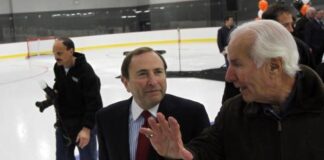 NHL Players won't appear in South Korea 2018 Winter Games And so, it seems that National Hockey League Commissioner Gary Bettman, and the 31 team...