https://www.youtube.com/watch?v=8DinPNdQ7DA Just last week, it appeared that the International Olympic Committee would have to beg politicians in...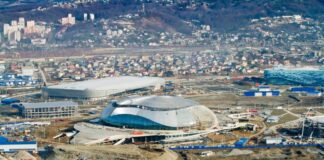 What did Barnum say? https://www.youtube.com/watch?v=IQf6_MaTF4Y It is no secret that people around the globe have been rejecting the International Olympic Committee's big show, the Olympics. It...
Euros speak. https://www.youtube.com/watch?v=ZtlC82Dfrp4&t=5s The National Basketball Association is trying to figure out its international stops for the 2019-2020 season. London has been part of an international...
Miami Dolphins owner Stephen Ross wants more events in his National Football League stadium. Ross's 2014 agreement with Miami Dade County had Ross put up money to rebuild the stadium in exchange for subsidies for big events.
It seems the International Olympic Committee President Thomas Bach is comfortable going after the news media and blaming the fourth estate for the problems that the IOC is encountering finding host cities that will gladly invest billions of dollars, euros and yen, into a two week sports pageantry that is at best a loss leader.
The International Olympic Committee is looking for an area that will have no problem paying off a debt of billions of dollars or loonies or euros or yen in exchange for the opportunity to host an Olympics.
Help is on the way. https://www.youtube.com/watch?v=n3JHjI6gfyo&feature=youtu.be The Olympics and the Paralympics come and go every two years but there is one constant that never disappears. The...
The NHL in China. The National Hockey League's first adventure in China begins with a pair of pre-season games in Shanghai and Beijing featuring the...