Betting on soccer can be a lot of fun. But if you are serious about receiving winnings from your wagers, you need to avoid...
There is a COVID-19 testing center on the grounds. https://www.youtube.com/watch?v=1uIwGEnHZ2M The National Football League's Miami Dolphins owner Stephen Ross was praised for putting on a...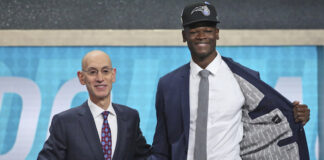 Going global. https://www.youtube.com/watch?v=MGnVq_98erQ While the National Basketball Association daily story seems to have drifted into soap opera land whether it is a storyline about LeBron James...
Show us money. https://www.youtube.com/watch?v=suxzx0NEMYw Apparently the ownership of Spain's La Liga Barcelona club has not given up on playing a regular season game in Miami or...
The governing body of global soccer, FIFA, is irate and has issued a threat. If big brand teams such as Manchester United, Real Madrid and others form a European super soccer league without FIFA's approval, any player who performs for those teams would be banned from playing in FIFA's crown jewel event, the World Cup.
Major League Baseball is in the middle of its All Star tour of Japan. Recently, National Hockey League Commissioner Gary Bettman said the league has plans to stage 2019 pre-season games in Germany and Switzerland with regular season games in Prague, the Czech Republic and Stockholm, Sweden.
Miami Dolphins owner Stephen Ross wants more events in his National Football League stadium. Ross's 2014 agreement with Miami Dade County had Ross put up money to rebuild the stadium in exchange for subsidies for big events.
While Major League Baseball, the National Football League, the National Basketball Association and the National Hockey League continue to export their North American product globally, there is one sports group that does not want to step foot in America.