Home
Tags
Seattle Mariners
Nuts owners need public money to build the facility. https://www.youtube.com/watch?v=07BDdkv69So There are some people in Modesto, California who think people living in the San Francisco Bay...
New York Yankees (86-67, third in the AL East) vs. Boston Red Sox (88-65, second in the AL East) Boston; Friday, 7:10 p.m. EDT PITCHING PROBABLES:...
The collective bargaining agreement talks could get testy. https://www.youtube.com/watch?v=xw78H85lFz0 Kevin Mather is no longer employed by the Seattle Mariners as the team's CEO and president but...
Getting a handle on the virus. https://www.youtube.com/watch?v=ITLPUXFhnww As more states report cases of the Coronavirus, the guardians of sports are paying attention to the...
Nothing is imminent. https://www.youtube.com/watch?v=m4ZaPkrd6Z0 In the, it is time for New Year predictions, here are two statements that will be true. Major League Baseball will not...
The Donald Trump tariff on steel, rebar and aluminum has caused the estimated price of the renovation of the Seattle arena to rise by about one hundred million dollars. The Seattle project probably won't be the only sports plan impacted.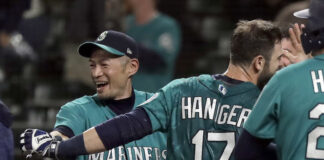 The Seattle Mariners Major League Baseball club owners and King County elected officials were trying to come up with a new deal that would extend the team's lease to use the municipal facility for another 25 years.
Reshaping their pitching staff for the stretch run, the Yankees acquired right-hander Lance Lynn from Minnesota on Monday while dealing Adam Warren to Seattle.
Aaron Judge and Miguel Andujar hit two-run homers off James Paxton in the first inning that sent the Yankees over the Seattle Mariners 4-3 on Thursday for a three-game sweep.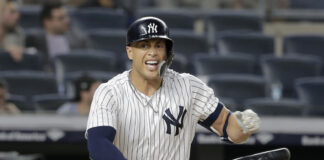 Giancarlo Stanton lined a two-run homer with two outs in the bottom of the ninth inning, and the New York Yankees erased a five-run deficit to beat the Seattle Mariners 7-5 on Wednesday night.