Alabama's best offensive player might be quarterback Mac Jones, who while is efficient produces big plays. Or it could easily be DeVonta...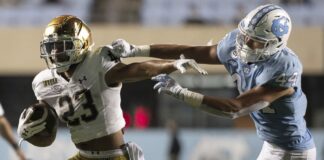 Syracuse (1-9, 1-8 ACC) at No. 2 Notre Dame (9-0, 8-0, No. 2 CFP), Saturday at 2:30 p.m. EST (NBC).
The jockeying for position begins in earnest now that the first College Football Playoff rankings are out. Among the...
No. 1 Clemson (7-0, 6-0 ACC) at No. 4 Notre Dame (6-0, 5-0), Saturday at 7:30 p.m. EST (NBC).
Big Ten is going to give fall football a shot after all. Less than five weeks after pushing football...
For the first time since the end of the 2011 season, Ohio State is not ranked in the AP Top 25.
North Carolina State has paused all athletics activities due to a coronavirus cluster within its programs. The school announced...
Some people think playing college football in a pandemic is fine.   https://www.youtube.com/watch?v=NE0qyW8jAPY Major League...
Notre Dame canceled its Wednesday football practice and might take Thursday off as well in response to the school's decision to go...
Let's play in the pandemic. https://www.youtube.com/watch?v=PJshEEwTOQY It appears that the Lords of college sports...