BOSTON (AP) — A three-touchdown victory over a Top 5 team. A 50-point win in the following week. The No. 3 ranking in the country.
And Florida State coach Mike Norvell wants to raise the bar.
"The new expectation needs to be better than that," he said this week as the Seminoles (2-0) stop at Boston College (1-1) for their Atlantic Coast Conference opener Saturday on their path to what looks like a berth in the College Football Playoff.
"I think our guys embrace it. They don't always like it," Norvell said. "We all want to take a deep breath. We all want to be able to have a relaxing moment. … Yes, there's an appreciation. But there's also a responsibility that comes with the steps we've taken to get better, and that's what we continue to push to do."OTHER NEWS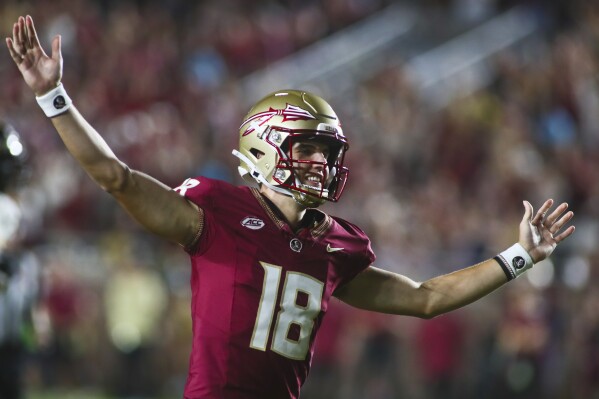 No. 3 Florida State aiming for big win when it plays Boston College in Red Bandanna Game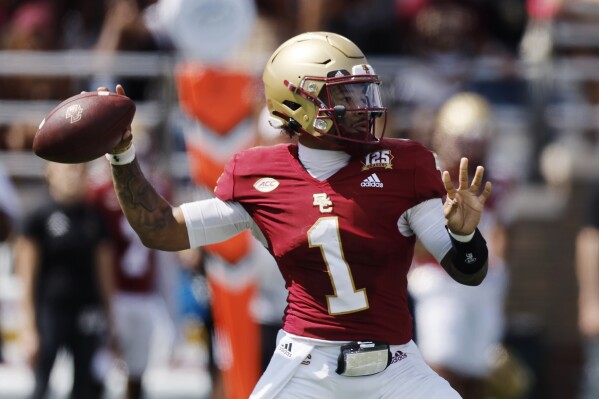 Boston College needs victory over Holy Cross to recover from opening loss to Northern Illinois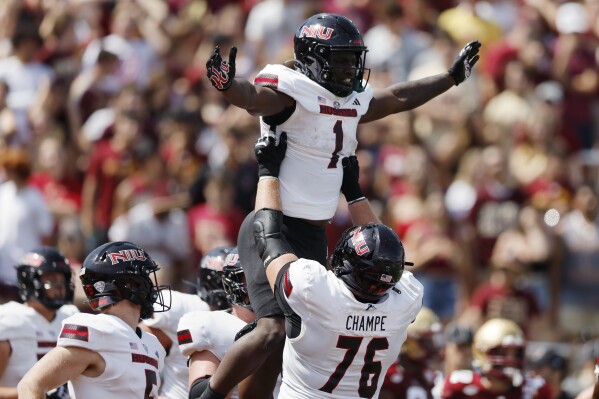 Northern Illinois beats Boston College 27-24 in overtime
Florida State rose to No. 3 in The Associated Press Top 25 thanks to its 66-13 victory over Southern Mississippi last week, combined with a loss by Alabama. It's the Seminoles' highest ranking since they were also third before losing back-to-back games to open 2017, the last year of the Jimbo Fisher era.
"They certainly could be (No.) 1 or 2. Depends on who you ask," BC coach Jeff Hafley said. "There's many people that think this is the best team in the country."
And none of that matters to Norvell.
"It's about what we're willing to do when we show up and when we go to work," he said. "We have the opportunity. It's just what we do with that opportunity? The older guys that have lived it, probably we've built that trust throughout time. But for the newcomers, sometimes you've got to paint the picture for them."
BC opened as a four-touchdown underdog after losing to non-Power 5 team Northern Illinois in the opener and then needing overtime to beat FCS Holy Cross last week. The Eagles beat a ranked team last year, but it was a plummeting North Carolina State that was No. 17 at the time and on its way out of the rankings with losses in three of its last four games.
"No one thinks that we're going to win," defensive end Donovan Ezeiruaku said. "You can just play free. You know, there's no expectations for us."
RED BANDANNA
Boston College is hoping that the emotion of its annual Red Bandanna Game will propel it to a victory – just like when it held its first Sept. 11 tribute back in 2014.
The game is played in the memory of former BC lacrosse player Welles Crowther, who died while rescuing others in the North Tower of the World Trade Center. As many as a dozen survivors credited him with saving them, identifying him by the red bandanna he was known to carry.
Hafley said the team spends a week during the offseason talking about Crowther and what the game means to the program so that when they put on the bandanna-trimmed uniforms it carries the proper weight.
"They understand the importance of the Red Bandanna Game," Hafley said. "Reminds them of what happened on 9/11, and obviously we teach them about Welles and others and why we wear those jerseys. You know, it's not just to put on a new look. It's way bigger than that."
BC beat No. 9 Southern California in the first Red Bandanna Game in 2014. Overall, the Eagles are 4-5 in the tribute game.
The Seminoles understand its importance, too.
"I talked to our team a little bit about that … just out of respect for Welles, and just the family, and all that he embodied," Norvell said. "So this will be an emotional game. I'm sure it will be a great atmosphere."
QB ONE
Thomas Castellanos is entrenched – for now – as the Boston College quarterback after starting the year as the backup.
Emmett Morehead was the incumbent, taking over when Phil Jurkovec was injured on Oc.t. 29 last year. Morehead started the last four games of the season and the 2023 opener against Northern Illinois, but played just three series before Castellanos replaced him and rallied the Eagles from a 14-point, fourth-quarter deficit to force overtime.
Hafley said the plan had been to use both quarterbacks in Week 1. But in the second game, against Holy Cross, Castellanos went the entire way, completing 17 of 23 passes for 201 yards and two touchdowns. He also ran for 69 yards.
"Thomas's ceiling is really high," Hafley said. "It was the first game he started since high school, so we're just learning a lot about Thomas. … We're learning about him as we watch him play. What does he do well? What do we need to get on him about? What do we need to teach him and really get to know him as a person? So I think he has a really high ceiling and I'm excited to see where that can go right now."
___
AP freelancer Bob Ferrante contributed to this story from Tallahassee, Florida.
___
AP college football: https://apnews.com/hub/college-football and https://apnews.com/hub/ap-top-25-college-football-poll