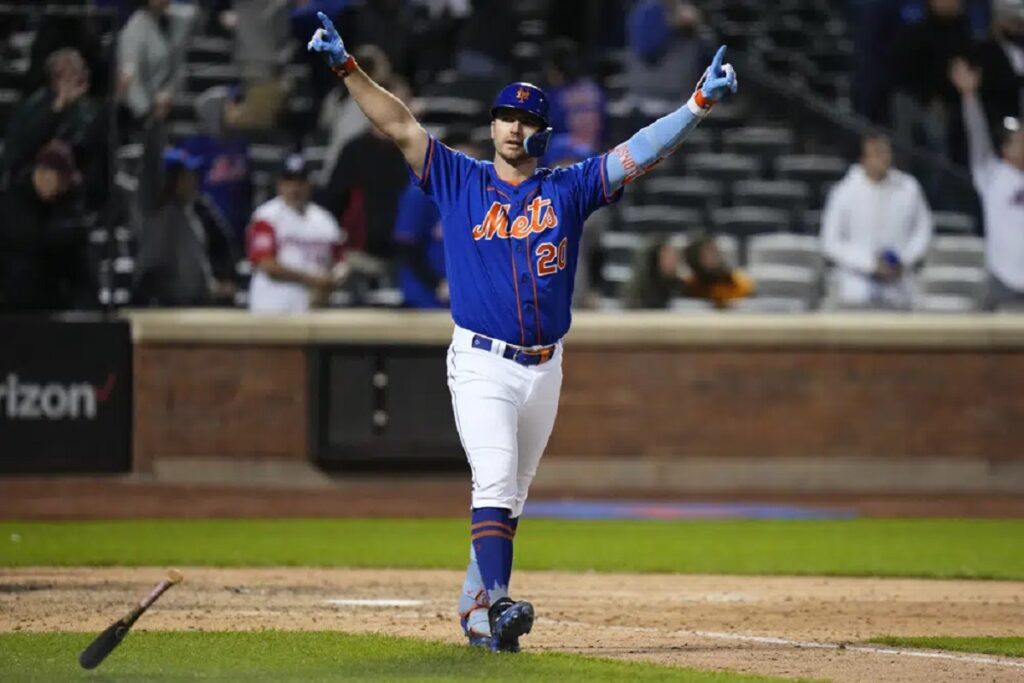 NEW YORK (AP) — Francisco Álvarez flipped his bat high in the air, celebrating a tying three-run homer for the New York Mets with two outs in the ninth inning.
Then in the 10th, it was Pete Alonso's turn after his three-run shot turned a two-run deficit into an improbable 8-7 win over the Tampa Bay Rays, the major leagues' best team. His nose red from a sinus infection, Alonso was about to flip when he dropped his bat and began his trot.
"It was just pure reaction," Alonso said. "I'm not really conscious of anything. I just kind of black out for a little bit, enjoy the moment and run the bases."
Expected to be a power with a record $355 million payroll, the Mets ran onto the field to celebrate their first walk-off win this season. A tying two-run homer in the seventh by Mark Vientos, brought up from the minors for his season debut, was only the third-most memorable long ball of the night.
"It's painful to watch people you care about go through some of the things, and they'll be the first to tell you it's self-inflicted," Mets manager Buck Showalter said. "So tonight they refused to roll over."
New York (21-23) has a chance to avoid a seventh straight series loss if its wins Thursday's rubber game against the Rays, a big league-best 32-12.
Alonso, his voice raspy, never thought about not playing.
"Yesterday, I felt horrible, too. Even though it sucks being sick, it's always nice to be able to hit homers," Alonso said.
Alonso leads the major leagues with 15 home runs. His 416-foot drive on a fastball from Pete Fairbanks (0-1) left the bat at 112 mph and landed in the left-field second deck.
"A very unfortunate time to be the lesser Pete," said Fairbanks, making his first appearance since April 28 after recovering from right wrist inflammation. "I went in the cage and hit something as hard as that one was hit and processed it. Now it's time to get ready for tomorrow."
Kodai Senga, his family at Citi Field to watch him for the first time with the Mets, struck out a season-high 12 in six innings.
Tampa Bay swiped seven bases, its most since Sept. 16, 2011, and built a 2-0 lead on Isaac Paredes' RBI double in the fourth and Jose Siri's seventh-inning homer against Jeff Brigham. Fans booed Siri for raising his right arm, index and pinkie fingers extended, during his trot and pulling up his left jersey sleeve.
Vientos, a 23-year-old infielder, made his major league debut last September and had a hot start at Triple-A Syracuse this year to earn the call-up. He drove a slider from side-armer Ryan Thompson 414 feet, just to the left of straightaway center. He tried to will a home run on the cool evening.
"Go! Go! Go! Go!" Vientos remembered telling the ball. "Maybe it listened to me. Maybe it didn't. But who knows?"
Brandon Lowe put the Rays back ahead with his eighth homer, a two-run shot off Adam Ottavino in the eighth. Randy Arozarena added an RBI single in the ninth against Stephen Nogosek for a 5-2 lead.
Jason Adam blew a save for the third time in eight chances after walking Daniel Vogelbach leading off the bottom half and hitting Starling Marte with a pitch. The next three batters were pinch-hitter Brett Baty, Vientos and Álvarez, who as recently as April 4 were hitting next to each other in Syracuse's batting order.
Baty struck out, Vientos flied out and Álvarez launched a sweeper 426 feet off the facing of the left-field second deck.
"Back then, it was if one guy doesn't do it, the next guy can," Álvarez recalled through a translator. "I said, `If they can't do it, I want the opportunity to be able to do it."
Pinch-hitter Harold Ramirez and Josh Lowe had run-scoring singles in the 10th against David Robertson (1-0) that opened a 7-5 lead.
With Brandon Nimmo on second as the automatic runner, Jeff McNeil singled leading off the bottom half. Francisco Lindor struck out and Alonso hit his fourth career walk-off homer. The Mets won for the first time this year after trailing by three runs.
After the celebration, Vientos looked forward to getting to his hotel near Citi Field.
"I'm actually going to get some sleep now," he said. "Last night, not too much."
SPEEDSTERS
Wander Franco and Taylor Walls stole two bases each, and Arozarena, Luke Raley and Josh Lowe one apiece.
STRIKEOUTS
Senga had the most strikeouts by a Mets rookie since Noah Syndergaard in 2015. Fans in the left-field seats hung 12 ghost posters, a nod to his ghost forkball.
WEB GEM
Siri made a backhand grab in center on a full sprint to rob McNeil of an extra-base hit starting the sixth.
MOVES
RHP Yonny Chirinos was optioned to Triple-A Durham and the Rays selected the contract of RHP Zack Burdi from the Bulls. RHP Javier Guerra cleared waivers and accepted an outright assignment to Durham.
TRAINER'S ROOM
Rays: RHP Tyler Glasnow (left oblique) probably will get one more minor league rehabilitation start before he's activated from the IL. … 1B Yandy Díaz (left groin) likely will return for Friday's homestand opener against Milwaukee.
UP NEXT
Tampa Bay will bring up RHP Taj Bradley (3-0, 3.52 ERA) from Durham to start Thursday afternoon. He beat Boston, Houston and Cincinnati in April. RHP Tylor Megill (4-2, 4.02) pitches for the Mets.
___
AP MLB: https://apnews.com/hub/mlb and https://twitter.com/AP_Sports