Glasnow Returns For First Home Start Since 2021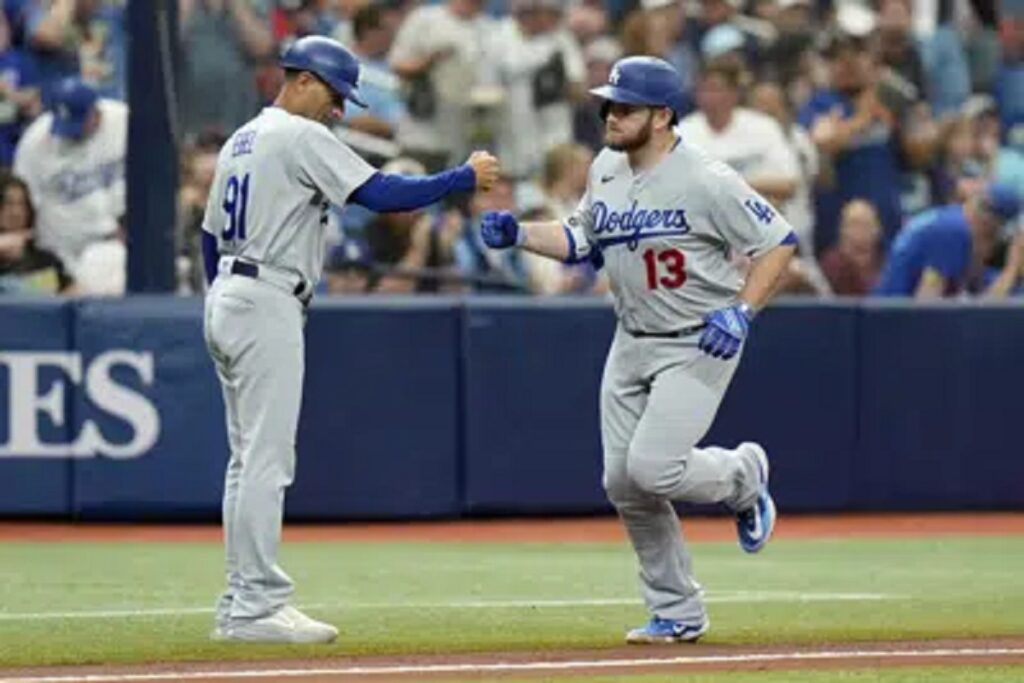 Follow @Steve_Kinsella1
St. Petersburg, FL – The Los Angeles Dodgers scored two in the seventh and one in the eighth and held on to defeat the Tampa Bay Rays 6-5.
Neither Tyler Glasnow, making his season debut with the Rays, or Clayton Kershaw were involved in the decision.
Yency Almonte (3-0, 7.36 ERA) picks up the win and Caleb Ferguson earned his second save and the Dodgers improve to 32-21 on the season.
Colin Poche (3-1, 2.41 ERA) takes the loss for the Rays who fall to 38-16 on the year.
Dodgers Hang On To Defeat Rays
Max Muncy opened the scoring for the Dodgers with a solo homer in the top of the second. It was his 16th homer of the season. The Dodgers extended their lead to 3-0 in the fourth inning on back-to-back doubles by JD Martinez and Max Muncy. Muncy advanced to third on a groundout and scored on a wild pitch.
The Rays answered the Dodgers in the bottom of the fourth with a pair of runs of Dodgers starter Clayton Kershaw. Randy Arozarena led off the Rays half of the fourth with a walk and moved to third on Christian Bethancourt's one out double. Both Arozarena and Bethancourt scored on Manuel Margot's single. The inning ending on a ground ball to second that was bobbled by Miguel Vargas, but Jose Siri was slow down the line, overall a bad look.
Tampa Bay turned to Kevin Kelly to replace Tyler Glasnow and get the final two outs in the fifth. The Rays took a 4-3 lead in the bottom of the fifth thanks to a 2-run homer by Harold Ramirez. It was Ramirez's eighth home run of the season and the Rays 100th of the season. Last year Tampa Bay did not hit their 100th homer until August 12th.
Jake Diekman, working his third consecutive day, retired the side in order in the sixth.
Clayton Kershaw was replaced by Yency Almonte. Kershaw worked five innings allowing four earned runs on six hits while striking out six and walking two.
Colin Poche, working his third straight game, struck out pinch hitter Trayce Thompson to open the seventh but then allowed the game tying run on a single to Miguel Rojas, a wild pitch, and a RBI single to Mookie Betts. The Dodgers took a 5-4 lead on an RBI double by Freddie Freeman that scored Betts. The double by Freeman extended his hitting streak to 16 straight games. Poche uncorked a wild pitch allowing Freeman to advance to third, but retired Will Smith on a grounder back to the mound and induced J.D. Martinez to groundout to short to strand Freeman and keep the deficit to just one run.
"I thought Po's [Poche] stuff was really good. He's worked really hard. I've worked him pretty hard, I appreciate him going out there." Kevin Cash said. "That's a big moment right there, he's been throwing the ball really well. Just a couple good hitters just got him."
"I though he came in, threw strikes, two really good hitters got him, Mookie [Betts] and Freddie [Freeman], those are probably the last two people you want to see coming up in that situation."
The Dodgers extended their lead to 6-4 on a two-out solo homer by Miguel Vargas off Trevor Kelley who had struck out the first two batters of the inning. It was Vargas' fifth homer of the season.
Tampa Bay rallied to score a run in the bottom of the ninth. With one out Taylor Walls doubled and with one out Yandy Diaz extended his on-base streak to 21 games by drawing a walk. Diaz was replaced by pinch-runner Luke Raley. Wander Franco's RBI single scored Walls and Raley moved to third. Harold Ramirez grounded out sharply to second to end the game.
Glasnow's Return:
Tyler Glasnow made his season debut for the Rays and his first game started at Tropicana Field since June 8, 2021 (vs Washington). He worked 4.1-innings allowing three earned runs on five hits striking out eight , walking one, one homer, and uncorkied one wild pitch that led to the Dodgers third run. He threw 83 pitches with 55 for strikes.
"Happy to have him back, was kind of the message I gave to him going to get the ball, it's nice to have him back." Cash said about the return of Glasnow. "The stuff was no different from what we saw last October, it's pretty wipe out stuff."
Glasnow's streak of striking out 10 or more batters in a home start was halted at six. He remains tied for the fourth longest such streak in MLB history. The longest streak is eight consecutive games (done twice), most recently by the Minnesota Twin Johan Santana spanning June 4 through August 7, 2004.
"I felt good, threw my pitches for strikes, wasn't perfect, but coming back I'm happy with it." Glasnow said of his performance. He was also happy to return to pitching at Tropicana Field for the first time since 2021.
"It was cool. Especially starting the game. I hadn't felt that in awhile so going out there and getting an out was like 'oh, it's kind of nice to be back." Glasnow said. "I'm glad they [the fans] were happy when I came off the mound. It was a feeling I hadn't felt in awhile."