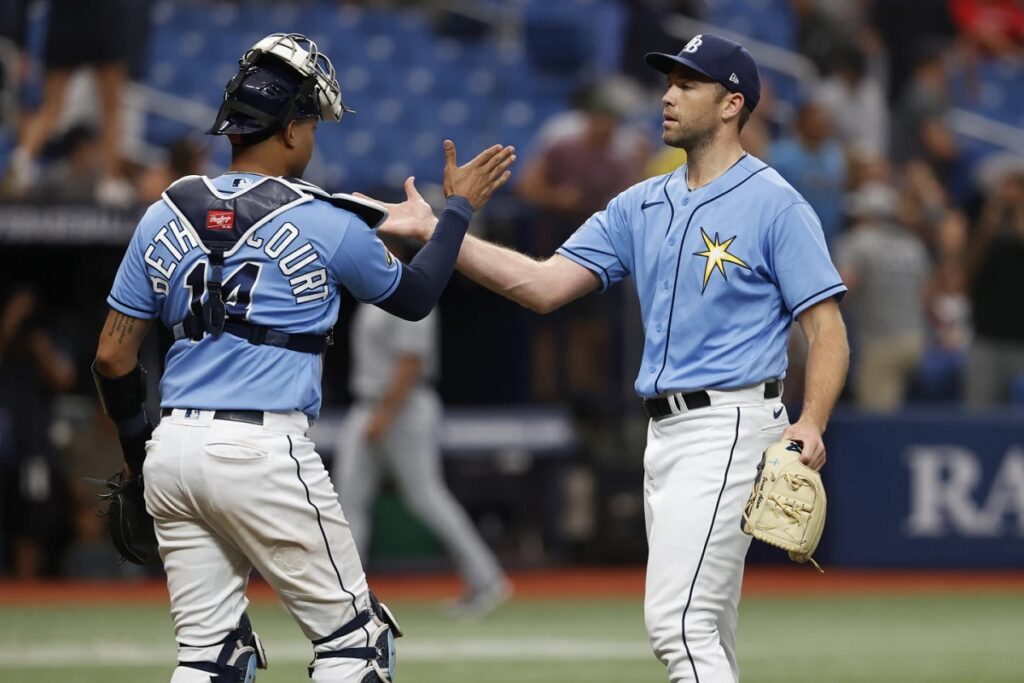 ST. PETERBURG, Fla. (AP) — Brandon Lowe homered and drove in four runs as the AL wild card-leading Tampa Bay Rays beat the Yankees 7-4 in a contentious matchup on Sunday and kept New York winless in series since June.
Benches and bullpens emptied twice in the eighth inning after one of five hit batters but no punches were thrown, and the Yankees lost their eighth straight series rubber game,
"Looking at it in a different view, it's a last-place team," Lowe said, "We don't need to worry about it. We need to focus up on what we need to do down the stretch. If they lose a guy, it's not going to be quite as big of a deal as if we're losing one of our guys. We're focused up on kind of a bigger picture."
Tampa Bay rallied from a 4-2 deficit in the sixth when Harold Ramírez flared a bases-loaded, two-out single to right off Ian Hamilton (2-2) that went just over a slow-to-react Gleyber Torres at second, and Lowe followed with a two-run single against Wandy Peralta.
New York (62-68) dropped a season-high six games under .500 and is in danger of ending its streak of 30 consecutive winning seasons. The last 16 batters made out for the Yankees, who are 0-8-2 in series since winning two of three games at Oakland in late June. New York has been held to four hits or fewer 23 times.
"We haven't been very good," Yankees manager Aaron Boone said. "Everything has been a challenge,"
Tempers flared after Randy Arozarena was hit on a 3-1 pitch by Albert Abreu, the fourth Tampa Bay player hit. Arozarena was also hit twice by the Yankees on May 5, once by Abreu after hitting a long home run.
"I think it was on purpose," Arozarena said through a translator. "If you look back at (the) previous series, he's hit me before. I've been hit in previous series' before that. They hurt Yandy (Díaz) the other day, they hit (Isaac) Paredes in the head, so I think it's probably was an issue for them."
Several players had to be restrained, including Díaz. Arozarena stole second and then third, resuming yelling at Abreu, and players ran onto the field for a second time.
Abreu, speaking through a translator, said he was not throwing at Arozarena. Díaz was hit on the left forearm in Friday's game and missed the last two games.
Osleivis Basabe was hit by Carlos Rodón and Paredes and Jonathan Aranda by Hamilton, while New York's Oswald Peraza was plunked by Zach Littell. Twelve Rays batters were hit by the Yankees this season and two by the Rays.
"You understand their anger?" Hamilton said. "I understand it but at the same time, if they want to come over here, they can come over here, I guess. Wish we had another game against them."
In the last meeting of the AL East rivals until next April 19, Rays fans among the announced crowd of 22,624 erupted when Lowe doubled for a 7-3 lead and Arozarena jogged home.
Kyle Higashioka, DJ LeMahieu and Anthony Volpe homered for the last-place Yankees, who have lost 12 of 14. New York dropped two of three to the Rays and are 1-12-3 in it last 16 series.
Higashioka and LeMahieu had solo drives over a four-pitch sequence against Littell (3-4) in the third, and Volpe connected on a fourth-inning two-run shot that put the Yankees up 4-2.
Tampa Bay took a 2-0 lead in first. Arozarena singled, stole second, advanced on Higashioka's throwing error into center and came home when Harrison Bader's throw to third skipped past LeMahieu for another error. Lowe homered on the next pitch, the 10th allowed by Rodón in 37 2/3 innings — two shy of his total in 178 innings for San Francisco last year.
Rodón, making his just his eighth start in an injury-marred season after signinng $162 million, six-year contract in December, retired 11 in a row at one point before departing in the fifth with two on and two outs He was replaced by Hamilton, who hit Isaac Paredes on the side of the helmet before striking out pinch-hitter Josh Lowe.
Paredes stayed in the game.
Littell allowed four runs and four hits in six innings. Jason Adam worked the ninth for his 12th save in 18 chances.
SLUMPING SLUGGLER
Yankees star Aaron Judge went 0 for 4 with three strikeouts to finish the series hitless in 12 at-bats that included striking out eight
MINORS MATTERS
Yankees: CF Spencer Jones, was promoted to Double-A Somerset and 2023 first-round pick SS George Lombard Jr. was moved up to Class A Tampa. … CF Jasson Dominguez hit a two-run triple Sunday and is batting .487 (11 for 23) with 10 RBIs in seven games since joining Triple-A Scranton/Wilkes-Barre.
RARE COMPANY
New York on Saturday joined the 1904 Philadelphia Phillies and 1968 Chicago Cubs as the only teams since 1901 to have two or fewer hits four times in a 10-game span.
REMEMBERING GEORGE ROSE
The Yankees said executive adviser of Pacific Rim operations George Rose died Sunday at his home in Yardley, Pennsylvania, at 57. He joined the organization in 1998 interpreting for Japanese right-hander Hideki Irabu.
TRAINER'S ROOM
Yankees: 1B Anthony Rizzo (post-concussion syndrome) will stay with the team to continue working while 3B Josh Donaldson (right calf strain) will go to the minor league complex in Tampa as he nears a rehab assignment.
Rays: Díaz (left forearm) remains sore and missed his second straight game.
UP NEXT
Yankees: RHP Luis Severino (3-8) and Detroit RHP Reese Olson (2-5) are Tuesday night's starters.
Rays: RHP Aaron Civale (5-2) will face Miami RHP Sandy Alcantara (6-11), who threw a five-hit complete game at Tampa Bay on July 26.
___
AP MLB: https://apnews.com/hub/MLB