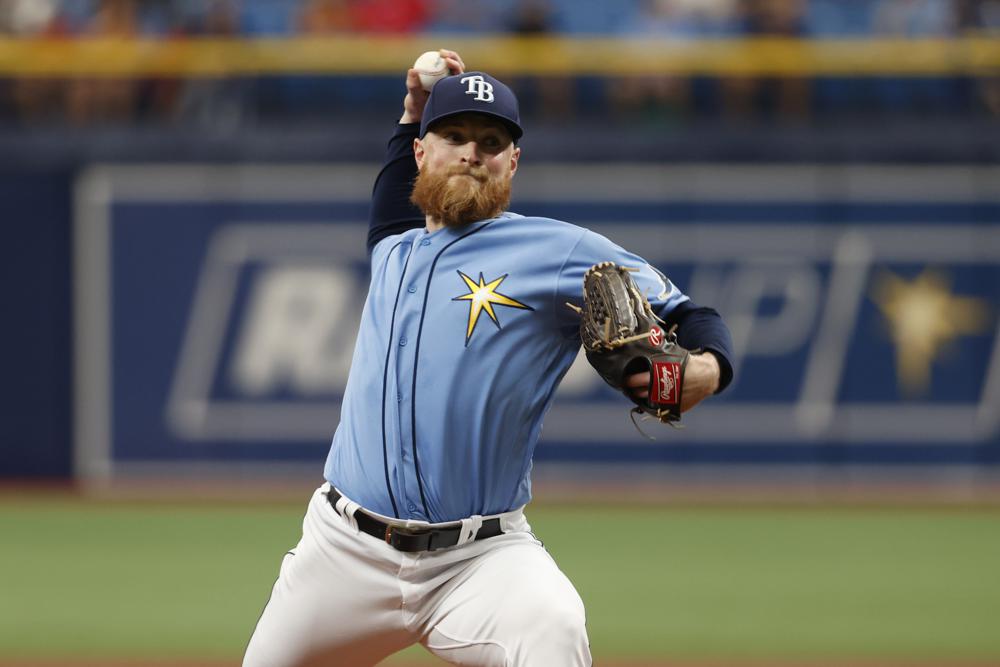 NEW YORK (AP) — Tampa Bay Rays pitcher Drew Rasmussen was placed on the 60-day injured list Friday with a right flexor strain, one day after tossing seven scoreless innings in a win over the New York Yankees.
Rasmussen is hopeful he can avoid a third Tommy John surgery. He is 4-2 with a 2.62 ERA in eight starts this season, helping the Rays roll to the best record in baseball.
The right-hander allowed only two hits and walked none Thursday night in an 8-2 victory over the Yankees. But he felt some nerve discomfort in his right forearm while pitching to the last batter he faced, Gleyber Torres.
Rasmussen's final four pitches were two cut fastballs in the mid-80s (mph) and two sweepers clocked at 79 mph, which worried manager Kevin Cash and pitching coach Kyle Snyder after Rasmussen regularly threw mid-90s fastballs all night.
"I definitely felt it," Rasmussen said. "Sneids could see it, just from the velocity of the pitches. The shapes were still right, the velocities were down a little bit. So he asked me how I was feeling. He got me out of there as soon as possible."
An MRI revealed the flexor strain, though Rasmussen's ulnar collateral ligament appeared intact. Cash said Rasmussen is expected to visit Texas Rangers head physician Dr. Keith Meister next week.
"Didn't sleep great last night, knowing that we had an MRI coming, because those haven't bode too well for me in the past," Rasmussen said.
Rasmussen underwent Tommy John surgery at Oregon State in 2016 and then again in 2017, shortly after he was drafted by the Rays and a physical revealed the UCL had torn again.
"We're not really thinking about that right now," Rasmussen said, referring to another Tommy John surgery. "The imaging looked OK there when it comes to the UCL. But yeah, anything dealing with the forearm into the elbow is definitely, definitely scary. Prefer it when these things don't pop up."
Rasmussen is the fourth Rays pitcher on the injured list with an elbow issue. Shane Baz and Andrew Kittredge are both recovering from Tommy John surgery last year, and Jeffrey Springs had the elbow operation late last month.
Tampa Bay is also missing Tyler Glasnow (oblique), who had a 3.10 ERA for the team from 2018-21 before undergoing Tommy John surgery.
Rasmussen retired the final eight batters he faced Thursday and threw just 76 pitches in his fifth scoreless outing of the season.
"I think we were all confused to why he was coming out at first. We thought (he) was going to go (the distance)," teammate Shane McClanahan said. "He was throwing a hell of a game."
Trevor Kelley, who served as an opener Friday night at Yankee Stadium, became the 11th pitcher to start a game this year for the Rays, who entered with the top mark in the majors at 30-9.
"I'm confident that we've got guys that are capable of doing good things for us, but we've cut into our depth quite a bit," Cash said. "Going to be leaning on guys to continue to do what they've done. If there's a way to tick it up a little bit more, that'd be welcome."
The Rays selected right-hander Chris Muller from Triple-A Durham to replace Rasmussen on the active roster. Tampa Bay also claimed right-hander Zack Littell off waivers from Boston and moved left-hander Garrett Cleavinger (right knee) to the 60-day injured list.
In addition, right-hander Chase Anderson was claimed off waivers by the Colorado Rockies. Anderson tossed five scoreless innings and earned a save in two appearances with the Rays.
___
AP MLB: https://apnews.com/hub/MLB and https://twitter.com/AP_Sports